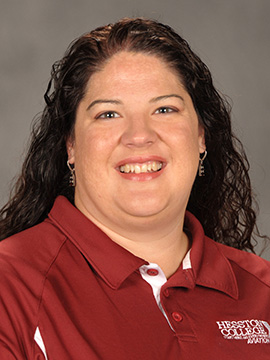 Aviation Professor and Department Chair
Email
amy.birdsell@hesston.edu
Office
Newton City-County Airport
Affiliated Departments or Programs
Education
A.A.A.S., Hesston College, 2001
B.A., MidAmerica Nazarene University (Olathe, Kan.), 2003
M.S., aeronautics, Embry Riddle Aeronautical University, 2017
FAA Certificates/Ratings
Commercial Pilot – Airplane Single- and Multi-engine Land, Instrument Airplane
Certificated Flight Instructor – Airplane Single- and Multi-engine, Instrument Airplane
Certificated Ground Instructor – Advanced
Personal Statement
I teach at Hesston because I love sharing the joy of flight!

Professional Affiliations
AOPA (Aircraft Owners and Pilots Association)

Courses Taught
All flight courses
Instrument Rating Principles
Meteorology
Aviation Safety
Human Factors
In Addition …
What draws you to the field of Aviation?
The cockpit of an airplane is an exciting place from which to view the world. Once I experienced flight in a small plane, I never wanted to do anything else. I enjoy the variety of disciplines necessary to teach aviation, such as navigation, weather, systems and even the regulations that keep us safe. Each day brings new insights, challenges and experiences that expand my worldview.
What about teaching energizes you?
Many of our students enter college with the dream of flight, but no experience with small airplanes. I love seeing their excitement to start flying an airplane the very first week they are here and helping them take the steps necessary to realize their dream. In two short years, they have the skills and experience to share the love of flying with their own passengers or students. It is rewarding to hear from alumni who are advancing in their careers flying for airlines, charter and corporate companies, medical evacuation, the mission field and many more!
What are your favorite courses to teach? Why are they favorites? What do you like about them?
I am really excited to start teaching some of our new aviation courses in 2016, such as Meteorology, Human Factors and Aviation Safety. I think our new curriculum will help our students develop stronger skills and be more competitive in the aviation industry.
Related Links