At a glance
Hesston College is a liberal arts college located in south central Kansas whose mission is to "educate and nurture each student within
Christ-centered community, integrating thought, life and faith for service to others in the church and the world."
Hesston College Nursing offers a four-year Bachelor of Science in Nursing program (BSN) and a post-licensure program for RNs. This RN-BSN curriculum prepares the baccalaureate nurse as a generalist, equipped to care for individuals, families, communities and populations across the lifespan at any point on the wellness-illness continuum and across the continuum of health care environments. The program also provides a foundation upon which graduates can build to continue their formal education and skill development within the nursing profession.
In living out our mission, faculty are committed to you and your education. They are available to work with you individually, helping you to achieve your educational goals and to nurture your spiritual, cultural and interpersonal growth.
Click on the headlines below for details
Admission process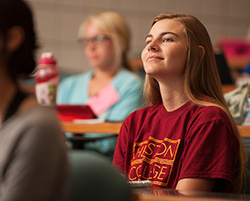 Hesston College admits RN-BSN applicants once a year beginning with the spring semester. Individuals desiring priority consideration for acceptance should submit all admission materials as soon as possible. Late applications will be accepted only on a space available basis. The Nursing Admissions Committee selects students from applicants who meet the requirements listed below.
Requirements
Graduation from an associate degree or diploma nursing program that holds specialized nursing accreditation
An unencumbered license to practice professional nursing in the United States
A minimum overall college grade point average of 2.5 (4.0 scale) in required courses
Satisfactory completion of 50 credit hours of the required liberal education and support courses
Applicants who do not meet all BSN admission requirements may request further consideration by the Nursing Admissions Committee
Program costs
RN to BSN tuition…..$11,850
For 30 credit hours of nursing coursework ($395 per credit hour)
RN to BSN program fee…..$400
One-time fee for background/drug screen, liability insurance, assessment lab
Technology fee…..$440
One-time fee
Total program costs…..$12,690
Program costs do not include books, additional course fees, housing, meals, student health insurance or transportation.
Additional Liberal Education & Support Courses are also available for RN to BSN students at a reduced cost ($395 per credit hour).
Financial aid and scholarships
At Hesston College, we strive to make a college education affordable for every student – 98 percent of the student population receives some form of financial aid. Due to the reduced credit hour cost for students in the RN to BSN program, institutional financial aid is not available. Federal and state aid is awarded based on need, which is determined by completing the FAFSA at fafsa.gov. For Kansas residents, the FAFSA should be received at the processing center by April 1, which is the deadline for Kansas grants and scholarships. Applicants are encouraged to inquire at their place of employment for possible tuition reimbursement benefits.
Coursework
Liberal education and support courses 60 hours
First-year Experience or equivalent…..1
College Writing I…..3
College Writing II or Advanced College Writing…..3
Speech Communication or Interpersonal Communication…..3
General Psychology…..3
Developmental Psychology…..3
Introduction to Sociology…..3
Humanities…..6
Two courses from two separate areas/disciplines. Check with your admissions counselor for a list of acceptable Humanities courses.
Introductory Chemistry…..4
Anatomy & Physiology…..5
Microbiology…..4
Principles of Nutrition…..3
College Algebra…..3
Elementary Statistics…..3
Biblical Literature…..3
General Electives…..10
TOTAL…..60
Graduation requirements
Completion of a minimum of 125 semester hours of college course work, including 60 hours of required liberal education and support courses.
Satisfactory completion of the RN-BSN program of study which includes 30 semester hours of upper-division nursing course work. Grades of "C" or above must be achieved in each nursing course.
"Advanced Standing" for 35 credit hours. Advanced Standing credit is granted to licensed applicants (RNs) for previous nursing course work completed at an accredited associate degree or diploma nursing program. These credits are awarded based upon the nursing program transcript analysis, alignment with the Kansas Articulation Plan for academic progression, evidence of RN licensure and, if available, a review of a nursing program portfolio.
Candidates who meet the advanced standing criteria and have successfully completed 15 hours of RN-BSN Hesston College nursing course work will be eligible to receive "Advanced Standing" credit, to be recorded on the Hesston College transcript.
Nursing curriculum and plan of study
The RN-BSN program is offered via a hybrid delivery system. One-third of each course is offered in the classroom; the remaining two-thirds is delivered online through our learning management system (Moodle).
Plan of study
Students attend classes on campus two days a month (9 a.m. to 4 p.m.).
Spring semester
Nurs 307 – Nursing Theories & the Baccalaureate Nurse Role…..3 hours
Nurs 308 – Healthcare Ethics…..3 hours
Nurs 311 – Holistic Assessment for the Practicing Nurse…..3 hours
Nurs 405 – Interprofessional Communication & Practice…..3 hours
Summer term
Nurs 406 – Healthcare Informatics, Quality & Safety…..3 hours
Nurs 412 – Nursing Leadership…..3 hours
Fall semester
Nurs 312 – Healthcare Systems, Policy & Finance…..3 hours
Nurs 316 – Evidence-Based Practice…..3 hours
Nurs 410 – Population-Based Nursing…..4 hours
Nurs 416 – Advancing Scholarly Writing…..2 hours
Application process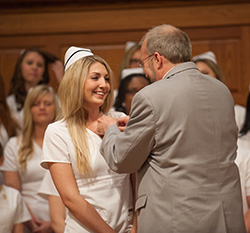 In order to be admitted to Hesston College Nursing RN-BSN, an applicant must be a graduate of an associate degree or diploma nursing program that holds specialized nursing accreditation and have an unencumbered license to practice professional nursing in the United States. All information must be submitted to the Hesston College Admissions Office.
Complete and submit the Hesston College RN to BSN Program Application.
Provide two professional (health care-related) references. References from personal friends or relatives are not accepted. List references and contact information on application.
Submit official transcripts from all colleges, universities and other schools attended.
Submit a current resumé.
Schedule a visit – email admissions@hesston.edu or call the Admissions Office at 620-327-4221.
Selection criteria and notification process
Admission files are reviewed and candidates accepted to the RN to BSN program on an ongoing basis as space is available. All applicants are encouraged to complete admissions file materials as early as possible, and no later than October 1. Files completed after October 1 will be reviewed for space-available admission or ranked and placed on a waiting list.
Selection criteria which are considered in the ranking and selection of applicants follow, and are supported by the Hesston College Admission Policy which states, "Hesston College admits those students who will benefit from the educational environment and who will contribute to the shared life of the campus community…. Admission is granted after careful review of the candidate's academic promise, social character and potential for success at Hesston College."

Date of application and date of admissions file completion.
College GPA (overall and in courses that meet program requirements, including recent academic trend in GPA);
Number of liberal education and support courses successfully completed;
References; and
Applicant's interactions and communication skills throughout the application process which reflect potential for success in the nursing program and ability to contribute to the shared life of the campus community (social character).

All applicants on the waiting list will be selected for an opening according to the selection criteria.
All selected and non-selected applicants who complete their admissions files will be notified in writing by the Hesston College Nursing Department. Any applicant placed on a waiting list for an available position will also be notified of this status.
Nursing Mission Statement
The mission of the Hesston College nursing program is to serve the current and future health care needs of clients, families and communities by facilitating within students the development of clinical judgment and a passion to serve others through a holistic, comprehensive approach to client-centered care.
Nursing personnel
Hesston College faculty members provide instruction in the classroom, laboratory and clinical settings, and also serve as academic advisors. Maintaining a culture of caring and respect and nurturing positive relationships with students is central to the achievement of the Hesston College mission.
Accreditation
Hesston College has been approved to offer a baccalaureate nursing program through The Higher Learning Commission. The baccalaureate degree in nursing program at Hesston College is accredited by the Commission on Collegiate Nursing Education (CCNE).