Department Mission
Drawing on a century of rich tradition, the Hesston College Music Department nurtures musical growth, encourages creativity, and provides a solid musical foundation for students pursuing a passion for music. The department provides many opportunities for performance, musical growth, and leadership.
Tours
International Choir Tour: Europe – in even numbered years, faculty members Russell Adrian and Ken Rodgers lead a month-long tour in western Europe. The trip includes performance opportunities in venues ranging from cathedrals to street corners, visits to sites of historical interest (Anabaptist and general), research projects along the way and home stays – opportunities to connect with the people of Europe.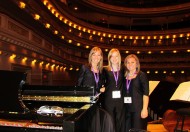 Bel Canto Singers and Hesston College Men's Chorus and Women's Chorus tour each year. In addition to a host of local concerts and regular Sunday morning appearances in congregations across Kansas, Bel Canto tours during fall break and an extended weekend in February or March. In odd numbered years, Bel Canto tours for an additional two or three weeks in May, after commencement. Men's and Women's choruses perform in local congregations during the year.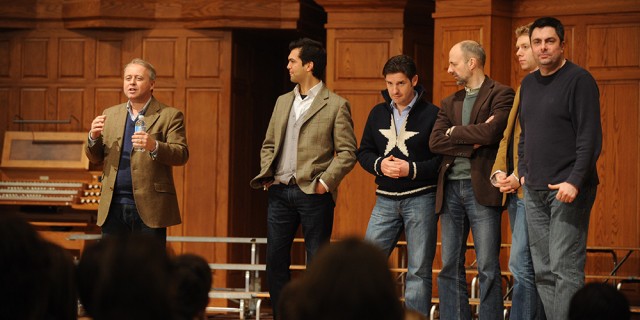 Opportunities to work with world-renowned artists. Recent visiting artists include:
The King's Singers
The Rose Ensemble
Charles Bruffy, Director, Kansas City Chorale
Ron Shetler, Broadway producer and voice teacher
Wayne Bryan, Music Theatre of Wichita artistic director
David Adam Moore, La Scala Opera baritone
Sarah Tannehill, Grammy-winning soprano
Turtle Island String Quartet
St. Petersburg String Quartet
Three-Part Invention (Violinist Tracy Silverman, Cellist Eugene Friesen & Pianist Philip Aaberg)
Elena Talley, clarinet
Daniel Velicer, piano
Lieurance Woodwind Quintet
Accolades and Recognition