Center for Anabaptist Leadership and Learning
The world needs more disciples of Jesus
But many church leaders don't know how to get there.
Hesston College's Center for Anabaptist Leadership and Learning – CALL – seeks to equip leaders able to create discipleship movements, making disciple-makers like Jesus did.
CALL is a hybrid/online program for adult learners who want more training as church leaders, particularly leaders who can create missional communities.
The question isn't whether you are called; the question is how are you called? If you are a follower of Jesus Christ, you are called to participate in the Ministries of Christ. But which ministries best fit your gifts, and are you being called into church leadership?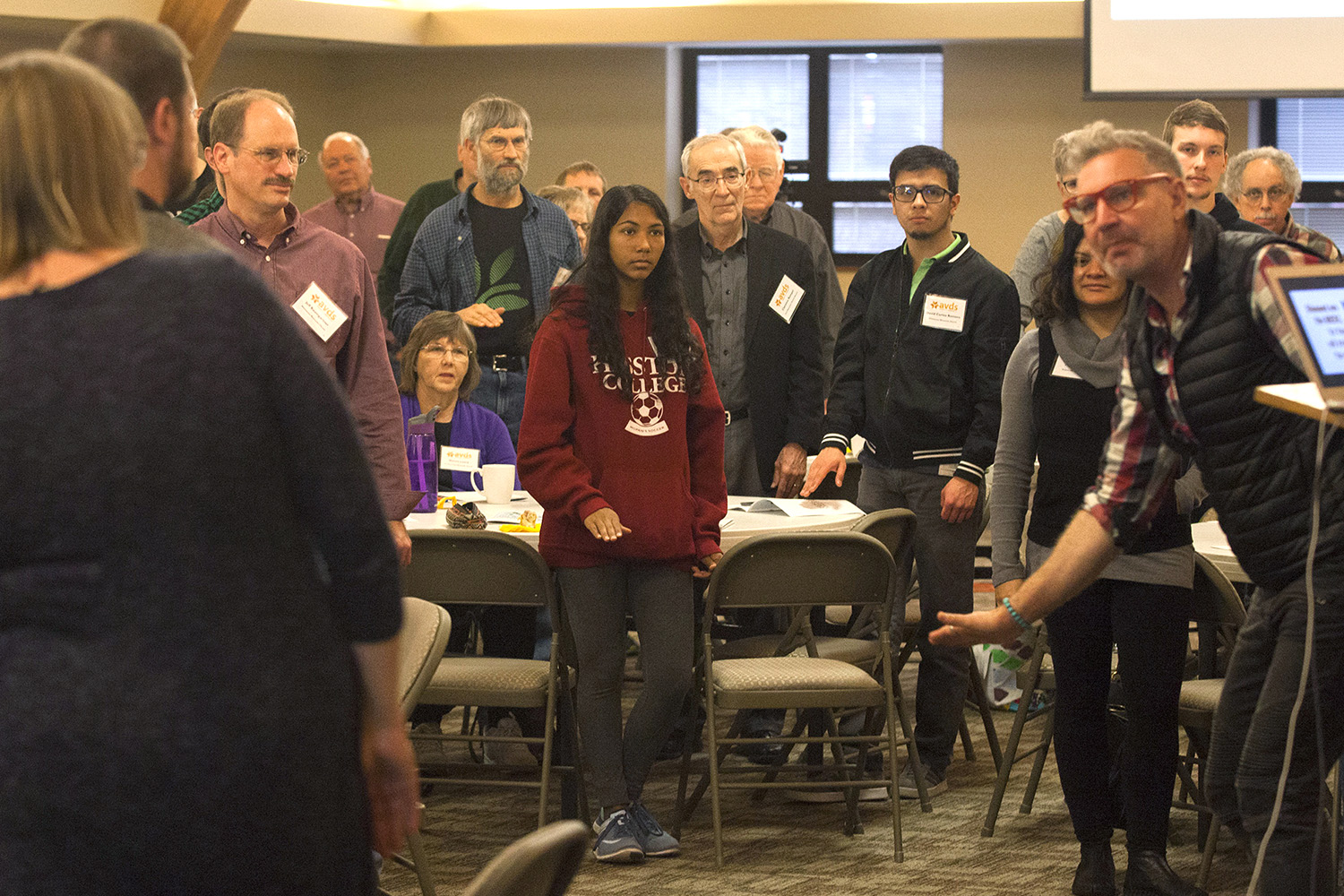 Holy angst…
The landscape of the church seems to be entering a new frontier. It is no longer the pastor/leader's job to do ministry and discipleship on behalf of the congregation. It is their job to equip everyone to also be able to do ministry and discipleship. But for many leaders today, it is hard to know where to start.
CALL offers instruction relevant to the Church today
It is designed to equip church leaders with tools to purposefully live into the church's call to make disciples, and to respond with confidence in disciple-making and cultural engagement.
It pushes church leadership education out of the classroom and puts it back into the hands of the church community. We do this by focusing on practical and experiential education that goes beyond classroom theory and discussion.
It recognizes that every church, every leader and every community has different needs, and as such, provides a variety of training on different levels.
The CALL model
CALL focuses on the Missional model, which equips every follower of Christ to live with sacred purpose by enabling them to do ministry and mission in their daily lives as ambassadors of Jesus Christ. The Missional model of leadership looks for sacred opportunities in the secular rather than thinking the secular needs to come to our church building to find Christ.
Equipping leaders
Every person has been called by God for a sacred purpose. CALL helps leaders discover their sacred purpose so they can help others discover their sacred purpose.
CALL is for anyone who longs to see the church thrive in a post-Christian age, including:
people with or without a college education
people who want to work in full-term church leadership
people who see their marketplace job as their primary mission field
veteran pastors with M.Div degrees
bi-vocational/co-vocational pastors
lay leaders
anyone who feels called
CALL programs
Missional Leadership Certificate is an introduction to missional concepts and practices, as well as disciple-making. The certificate program is for those who seek particular emphasis in missional church and missional leadership, and is open to students with any level of education. It is well-suited for people who either do not have the luxury of time or money for general education courses and simply want church leadership education, and for those who already have a degree, including an M.Div.

Disciplemaker Learning Community Courses is series of five courses (Relg 117, 118, 119, 218 and 219) that are part of the Missional Leadership Certificate Program. Students join a cohort group that goes through the series of courses together. Groups will be together for the duration of the program. They will also learn the regular rhythms of disciple making. The discipleship portion of the DLC will serve as an example of discipleship groups each student will be expected to lead in their own context, simultaneously to their class formation. Prerequisite – acceptance into the Missional Leadership program.

Weekend College is a non-credit weekend-long educational experience for congregations and groups that focuses on specific topics. Weekend College offerings include:

"The Bible as Story" – based on Hesston College's Biblical Literature (or Bib Lit) course
"Five-fold Church Leadership" or "5Q" – organizes the life and ministries of the church around the Ephesians 4 ministries: Apostles, Prophets, Evangelists, Shepherds (Pastors) and Teachers
Peacemaking and Justice – studies the biblical and theological foundation for nonviolence, peacemaking and justice through a historical Anabaptist perspective, which uses the fullness of Jesus' life, death and resurrection as a starting point for interpreting scripture, history and ethics.
Learning labs
Often, church leaders know that something needs to change, but there are few opportunities to observe a different way of doing ministry.
Learning Labs will provide the hands-on learning opportunities that are frequently missing in church leadership programs. Students will be able to experience short-term learning opportunities that provide the immersion necessary to learn missional engagement in action. The combination of classroom learning with observation, engagement and reflection is the cornerstone of the CALL program. Every aspect of the program is designed for more than just a classroom experience.
Learning Lab examples:
Myanmar – Partnering with Myanmar Mission International, a church planting network, to experience cross cultural leadership training and ministry opportunities.
Philadelphia – Focus on missional church leadership and cultural competence through working with indigenous church leaders from several ethnic group congregations.