Leadership, Responsibility, Preparation
Hesston College's DECA Emerging Leadership Team is part of the business department, and is an extracurricular activity for any entrepreneurial-minded student who wants to improve their leadership skills through experiential learning opportunities, including business-related DECA competitive events.
What is DECA?
DECA is a global organization focused on preparing high school and college-age emerging leaders and entrepreneurs for careers in marketing, finance, hospitality and management.
DECA prepares its members to be:
Academically prepared
DECA members are ambitious, high-achieving leaders equipped to conquer the challenges of their aspirations.
Community oriented
Recognizing the benefit of service and responsibility to the community, DECA members continually impact and improve their local and broader communities.
Professionally responsible
DECA members are poised professionals with ethics, integrity and high standards.
Experienced leaders
DECA members are empowered through experience to provide effective leadership through goal setting, consensus building and project implementation.
Learn more at deca.org
Student Resources and Opportunities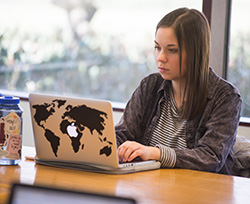 As a DECA institution, Hesston College will offer a variety of resources and opportunities to participating students.
Competition team – Be a member of the wider DECA organization and travel to state and national competitive events where students put their experience, skill and knowledge to the test.
Earn Honors credit – DECA fits into requirements for high achieving students who are part of the Hesston College Honors Degree program. Earn credit hours with the program's Adaptive Challenges in Leadership I and II courses and satisfy the experiential learning requirement for an associate degree with honors.
Leadership coaching – Meet one hour per week as a team for leadership training.
Event experience – Help plan, coordinate and host Hesston's annual Lark Leadership Experience for prospective students as well as DECA competitions or other leadership events.
Experiential opportunities – Gain hands-on experience with on-campus leadership projects that could include the Larks Nest snack shop, bookstore or sporting event coordination, or off-campus experiences with local profit and non-profit businesses.
Travel to conferences and workshops – See more at Leadership Conferences.
Scholarships – Be eligible for the Hesston College Emerging Leaders Scholarship and additional scholarships through DECA corporate partners.
Recognition and awards – DECA recognizes achievement in academics, leadership and community service.
Resume builder – Add credibility to your business leadership experience for potential employers and boost your career opportunities.
Leadership Conferences
Hesston College DECA Emerging Leadership Team will participate in DECA conferences, as well as more local events including:
Kansas Student Leadership Forum – A weekend-long forum where students hear from state leaders, engage in small group discussions and be given the opportunity to explore the question every leader faces: "How do I lead well?"
Leadership Challenge Event in Topeka, Kan. – A two-day competition that provides the opportunity to participate in an organized competition that stimulates real-life experiences addressing a variety of problems and situations where the outcome is dependent on the leadership decisions made throughout the course of the competition.
Next Steps
For further information and action steps, indicate your interest in Hesston College's DECA Emerging Leadership Team with your admissions counselor or with Debbie McAlister, director of business education, at debbie.mcalister@hesston.edu.