Hesston College recognized students who completed graduation requirements and earned degrees following the Fall 2018 semester.
On December 13, a nursing pinning and graduation ceremony recognized 25 students who completed bachelor of science in nursing (BSN) degree requirements from the RN to BSN program. A new class of students is set to begin the RN to BSN program with the spring 2019 semester in January, joining another part-time cohort completing the second year of the program.
Ten students, recognized during a December chapel, completed two-year degree requirements and earned associate degrees.
Academic honors
Also recognized were full-time students whose fall 2018 semester grades earned them a place on the Dean's List (3.90 to 4.00) and Honor Roll (3.50 to 3.89).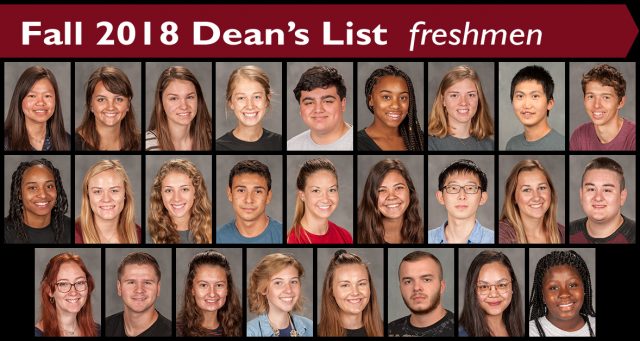 Dean's List – Freshmen
Gabriella Audrey, Semarang, Indonesia
Willow Baer, Marshallville, Ohio
Erin Beachy, Middlebury, Ind.
Sabrina Bellar, Conway Springs, Kan.
Thomas Brown, Valley Center, Kan.
Simone Burgess, Los Angeles, Calif.
Abby Busby, Bandera, Texas
Matthew Byler, Shipshewana, Ind.
Levi Geyer, Oxford, Iowa
Denazia Jeffers, Midwest City, Okla.
Hannah Klusman, Ford, Kan.
Sadie Leatherman, Kouts, Ind.
Brayan Martinez, Soyapango, El Salvador
Rachel Miller, Freeman, S.D.
Jessie Miranda, Turlock, Calif.
Masataka Miyake, Tatebayashi, Japan
Cicely Moody, Bazine, Kan.
Michael Mullet, Lagrange, Ind.
Amber Petrie, Murdock, Kan.
Tobie Plett, East St. Paul, Manitoba, Canada
Kate Ramirez Ingold, Goshen, Ind.
Raelynn Reeves, Abilene, Kan.
Mackenzie Smith, Richmond, Texas
Rei Vuksani, Tirana, Albania
Navy Widyani, Jakarta, Indonesia
Laurine Yeboah-Appiah, Lancaster, Pa.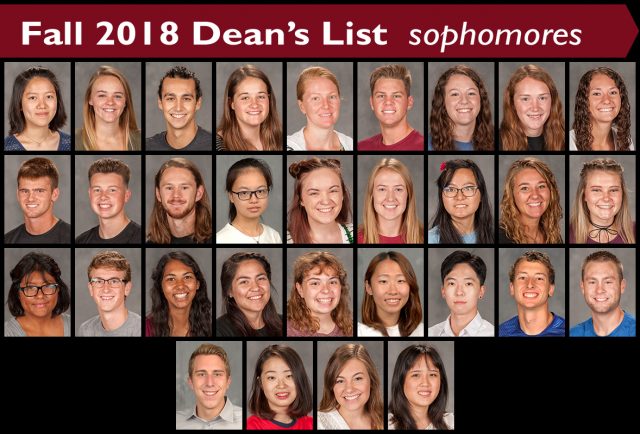 Dean's List – Sophomores
Louisa Angeline, Semarang, Indonesia
McKenzie Brown, Estes Park, Colo.
Lucas Comfort, Salina, Kan.
Jenna Denlinger, Lancaster, Pa.
Erika Ensz, Hillsboro, Kan.
Will Gaby, Goshen, Ind.
Jade Gleason, Brush, Colo.
Faith Hallmark, El Dorado, Kan.
Annalys Hanna, Fraser, Colo.
Grant Harding, Louisburg, Kan.
Cal Hartley, Benton, Kan.
Jaden Hostetter, Harrisonburg, Va.
Laura Huang, SanMing, China
Leah Huyard, Staunton, Va.
Kylee Kasselman, Claflin, Kan.
Lily Kauffman, Mountain Lake, Minn.
Cassidy King, Cochranville, Pa.
Morgan Lantz, Bristol, Ind.
Ivonne Ledesma, Wichita, Kan.
Taylor Longenecker, Rockingham, Va.
Faith Manickam, Hesston, Kan.
Mariana Martinez Hernandez, Tegucigalpa, Honduras
Sophie Miller, Goshen, Ind.
Rio Mori, Osaka, Japan
SungHyoun, Gyounggi-do, South Korea
Jared Oyer, Hubbard, Ore.
Camryn Roth, Canby, Ore.
Zachary Smisor, Valley Center, Kan.
Harune Suzuki, Osaka, Japan
Addie Swartzendruber, Henderson, Neb.
Lilian Trifena, Tangerang, Indonesia

Dean's List – Upperclassmen
Kristy Bell, Andover, Kan.
Ashley Call, Wichita, Kan.
Autumn Gehman, Adams, Tenn.
Kristi Hill, Newton, Kan.
Kate Kilmer, Goshen, Ind.
Nicole Loewen, Hutchinson, Kan.
Kaitlin McGhee, Wichita, Kan.
Krystan Miller, Inman, Kan.
Sophia Miller, Newton, Kan.
Darrian Mosqueda, Hesston, Kan.
Kallie Provost, Wichita, Kan.
Ashley Rohleder, Salina, Kan.
Alyssa Rostetter, Hesston, Kan.
Kaitlyn Shaw, Newton, Kan.
Vanessa Steckly, Milford, Neb.
Moira Wells, Elbert, Colo.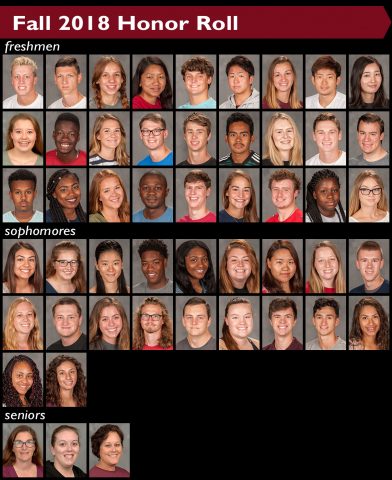 Honor Roll – Freshmen
Grant Bloyer, Winfield, Kan.
Josiah Brejda, Lincoln, Kan.
Brooke Brenneman, Parnell, Iowa
Muskan Budha Magar, Ghorahi Dang, Nepal
Dimitri Giannakopoulos, Houston, Texas
Ryusei Hando, Sanda, Japan
Alyssa Hershberger, Wellman, Iowa
Kyoya Himori, Yamamoto, Japan
Mio Hirata, Kani, Japan
Emilie Johnson, Canton, Kan.
Disleve Kanku, Lubumbashi, Democratic Republic of Congo
Ellena Lehman, Sarasota, Fla.
Dane Milburn, Lincoln, Neb.
Reese Nebel, Hesston, Kan.
Jonathan Ortiz, Wichita, Kan.
Alexis Salmans, Bel Aire, Kan.
Hudson Smith, Waukomis, Okla.
Justus Sneary, Harrisonburg, Va.
Yonas Taye, Addis Ababa, Ethiopia
Jasmine Taylor, Nassau, Bahamas
Sarah Teeter, Hesston, Kan.
Masemo Wakibogo, Hesston, Kan.
Stephen Waltner, Freeman, S.D.
Kaylee Wedel, Moundridge, Kan.
Dalton Woody, Cibolo, Texas
Laura Yeboah-Appiah, Lancaster, Pa.
Ejona Zogu, Lezha, Albania
Honor Roll – Sophomores-Seniors
Alexis Avalos, Yucaipa, Calif.
Erica Baer, Wooster, Ohio
Risa Fukaya, Kanagawa, Japan
Kalen Haynes, Trophy Club, Texas
KaDrea Hulett, Atlanta, Ga.
Lindsey James, Butte, Mont.
Misato Kawamoto, Ibaraki, Japan
Kaylen Lassley, Salina, Kan.
Ian Lecki, Overland Park, Kan.
Lindsay Manwell, Wichita, Kan.
Joel Plank, Syracuse, Ind.
Hannah Rosenbaum, Richmond, Texas
Roe Russey, Richmond, Texas
David Ryan, Tulsa, Okla.
Jenna Schneider, Lodi, Calif.
Dylan Slabach Brubaker, Harrisonburg, Va.
Teo Soler, Orleans, France
Samantha Trejo, Lyons, Kan.
Lily Wait, Parker, Colo.
Mackinzie Weber, Hesston, Kan.
Seniors-
Anna Baggett, Council Grove, Kan.
Krystal Duerksen, Goessel, Kan.
Darcy Yadon, Council Grove, Kan.