Hesston, Kan., missed the path of totality of the 2017 solar eclipse on Aug. 21 by about 149 miles, but that didn't stop Hesston College from giving students, faculty, staff and alumni a chance to experience the extraordinary event.
Even though it meant missing the first day of classes, 75 math, science, education and music students traveled 174 miles north to Shickley, Neb., where they were joined by about 90 Hesston College alumni and friends as well as students, faculty and staff of Shickley Public School, Shickley community members and members of Salem Mennonite Church (Shickley) for an eclipse presentation, lunch and eclipse viewing.
In total, about 450 people participated in the day's activities hosted by Shickley Public School, a PreK-12 school with about 135 students in the small village that boasted a population of 337 in the 2016 census.
For the main eclipse presentation, Hesston College chemistry professor, Dr. Jim Yoder, collaborated with the Bel Canto Singers, under the direction of Dr. Russell Adrian, to explain the science of the eclipse while also celebrating the event through song.
Dr. Yoder explained how every person is connected to the cosmos through the atoms and minerals produced in stars, but also through observing the same sky, sun and moon.
"This total eclipse is a good time to remember how we are all united rather than how we are different," Yoder said in his closing remarks.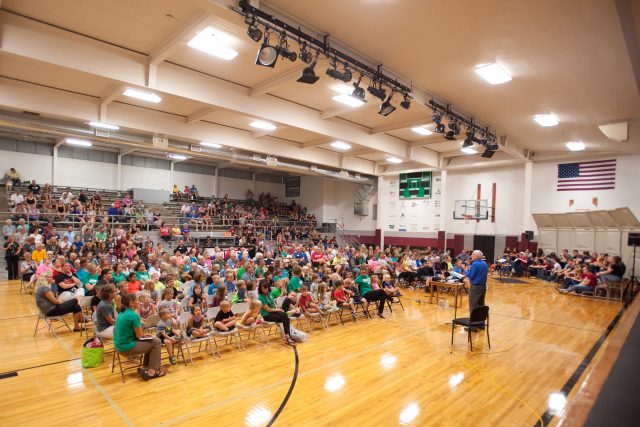 The TED-style talk was followed by lunch and the eclipse viewing on the school's football field, allowing the groups to intermingle and share with one another. Just as Yoder predicted in his presentation, cheers and expressions of awe erupted at totality as each person experienced the eclipse physically, spiritually and personally, but also in community with one another.
Other programming throughout the day allowed Hesston College education students to observe in classrooms, and Hesston students and faculty to present panel discussions to Shickley juniors and seniors about preparing for college, as well as careers in the STEM and music areas.
The idea for the event was spurred by Hesston College science, math and education faculty during the spring 2017 semester. Education professor Heidi Hochstetler, who grew up in Shickley, connected with the administration at her high school alma mater to arrange the day's programming. The Hesston College Alumni department further extended the invitation for alumni and friends to join in the day, and 90 individuals from a radius of about 175 miles accepted the invitation.