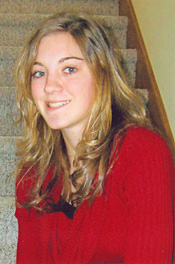 Hesston College cross country coach Gerry Sieber has announced his two most recent signees. Ryan Gehman, a senior at Lancaster (Pa.) Mennonite High School, and Janae Hershberger, a senior at Bethany Christian High School, Goshen, Ind., have signed letters of intent to run cross country at Hesston.
"I'm thrilled that Ryan and Janae have decided to pursue athletics in a Mennonite higher education setting. I hope their signing and involvement on our campus can be a springboard for future recruitment of additional runners from the Mennonite church-related high schools."
A 2010 district individual medalist at LMH, Gehman has been a key part of the Blazers' cross country team that qualified for the state tournament the past two years.
Gehman is a Scholastic Athlete at LMH as well as an Honor Roll student, and will pursue athletic training at Hesston. He attends Manor Church in Lancaster and is active in the youth group there.
"Ryan has a passion for distance running and will be a solid runner for our men's team," Sieber said. "His enthusiasm for running will be a real asset, especially when our team gets in the rut of a day-to-day grind."
Gehman is the son of Daniel and Jennifer Gehman, Millersville, Pa.
Hershberger was the top BCHS female cross country runner this past year and will be a strong runner for the women's program. Although unsure about her course of study, Sieber indicates she has some possible interests in physical therapy or occupational therapy. Hershberger attends Yellow Creek Mennonite Church, Goshen, and is active in the youth group there.
"I am looking forward to Janae's contribution to our growing women's cross country program," Sieber said. "She is a down to earth sort of girl that will fit into Hesston and our team very well. The close knit family and community feeling present on our campus is very appealing to Janae. She will be a positive influence for our team"
Hershberger is the daughter of Jeff and Juanita Hershberger, Goshen, Ind.