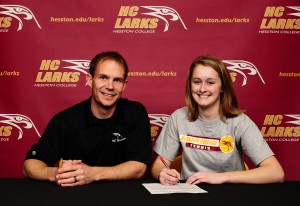 Emma Payne, a senior at Davis County High School in Bloomfield, Iowa, has signed a letter of intent to play tennis at Hesston College.
A letter-winner in tennis at Davis County High, Payne becomes the second signee of the year for Hesston coach Jeron Baker. An honor roll member all four years of high school, Payne will pursue a nursing degree at Hesston.
She is a member of Pulaski (Iowa) Mennonite Church, and is active in the youth group there, serving as treasurer.
"Emma's passion for tennis and commitment to improve will be a great asset to our team," Baker said. "She has a grasp of the campus and uniqueness of our institution and will fit in very well."
Payne is the daughter of Dan and Chris Payne, Pulaski.