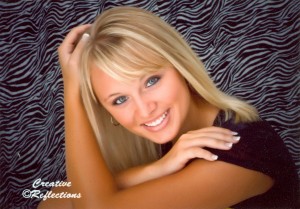 Ashley Oglesbee, a 5'7″ outside hitter from Ellinwood (Kan.) High School, has signed a letter of intent to play volleyball at Hesston College.
Oglesbee was a four-year starter and letter winner during her time at Ellinwood High, and was named to the all-conference second team following her junior year. During her senior year, Oglesbee recorded 226 kills, 188 digs, and a school-record 63 service aces.
Throughout high school, Oglesbee participated in four varsity sports, including track (two years), and a year each in basketball and softball.
Oglesbee is an accomplished student as well, having maintained Principal's Honor Roll status throughout eight semesters at Ellinwood High. A Kansas Honor Scholar, Oglesbee will pursue a nursing degree at Hesston.
Elsewhere, Oglesbee is active in her youth group at First Baptist Church, Ellinwood.
"Ashley has improved greatly over the last four years," said Laurie Fast, coach for Ellinwood High. "She will be missed by the team and coaches."
Oglesbee is the daughter of Gary and Stephanie Oglesbee, Ellinwood.