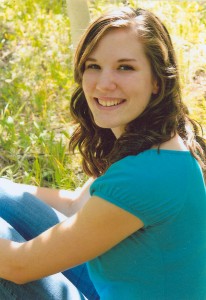 Chelsey Alden, a 5'11" middle blocker/outside hitter from Jefferson Academy (Broomfield, Colo.), has signed a letter of intent to play volleyball at Hesston College.
A two-sport athlete, Alden lettered two years in volleyball and three years in basketball for Jefferson Academy. In both volleyball and basketball, Alden was named as a team captain during her senior year.
A second team all-conference selection her senior year, Alden was voted as the most valuable player for her team. During her junior year, she was recognized as the team's top offensive player.
Other honors Alden has received include Coaches and Captains Award in basketball (2006), Most Improved in American History (2006), and Girl Scouts Silver Award (2006).
Alden excels in the classroom as well, as she has been on the Silver Honor Roll (maintaining a 3.0 or better) since her freshman year.
"Chelsey brings great enthusiasm into the gym," said Hesston volleyball coach Vanessa Schroeder. "Her court movement and verbal skills make her a strong presence at the net which will mesh well with our returning front row players and setter."
Alden is the daughter of Mark and Pam Alden, Broomfield, Colo.