The dedication of a peace pole on the Hesston College campus was one of many varied activities available for people of all ages as part of "A Family Celebration" during Thanksgiving Weekend November 27-29.
An estimated 100 people-students and parents, prospective students, faculty, staff, alumni, members of Hesston Mennonite Church and other interested persons, gathered Friday afternoon, Nov. 28, in cloudy, chilly weather to dedicate the peace pole, located in a triangular patch of grass outside the church's west entrance and near the north entrance to Kropf Center.
The words "May peace prevail on earth" are written on the four-sided pole in eight languages-Hindi, English, Indonesian, Japanese, Chinese, Arabic, Spanish, and an Ethiopian dialect.
Marion Bontrager, Bible professor, explained that he and others had discussed for several years the idea of placing a peace pole on campus. "The only poles available were wooden, which created a concern about durability," he said, "In the last year, an aluminum pole became available. And this location became available when the new church building was constructed."
Last April, Kevin Wilder, then campus pastor, worked with leaders of the Peace and Service Club-then sophomores Sarah Hooley, Heidi Gingerich, and Zach Hurst-to raise funds for the pole. Individuals donated more than $400, with an additional $150 coming from the Daniel Gerber Memorial Endowment Fund. Campus Facilities staff installed the pole early this fall.
During the dedication, Campus Pastor Todd Lehman read Luke 4:18-19, the college's theme verse for the school year, then international students representing a language group on campus read the verse in that language.
Bontrager led the formal dedication of the peace pole. "The biblical writers remind us to pray and envision the future into reality," he said. "May this symbol be a constant reminder to pray and envision a world at peace with God and with each other.
"In a world numbed and saturated with pictures of violence and suffering, may we be renewed by your Spirit with hope for your peace to come in the world," he continued. "In a world where peace with God and peace with neighbor are often separated, may this symbol remind us daily to live, teach, and proclaim a whole gospel for the whole person and for the whole world."
Bontrager's dedicatory words were interspersed with the audience responding, "May God's peace prevail on earth as in heaven."
Wilder, now a Hesston College faculty member, led a prayer of dedication. The ceremony ended with the college's Men's Ensemble singing the first verse of the hymn, "Let There Be Light." The audience joined the ensemble to sing three more verses.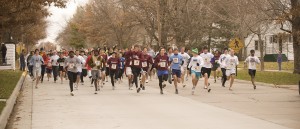 Earlier in the day, Todd Lehman, Hesston College campus pastor, finished first in the 17th annual two-mile run-walk, with a time of 10:59. The first woman to cross the finish line was Tomoni Shimoda, a Hesston College sophomore from Yamato, Japan, with a time of 13:10. That was faster than her time of 13:16 last year, when she also was the overall women's winner.
Proceeds from the run-walk, nicknamed the "Howard Hustle" in honor of President Howard Keim, will be used to purchase new and additional fitness and testing activity course equipment for the Physical Education Department.
One of the 219 participants, Megan Gerber, a 2005 graduate originally from Harper, Kan., will finish her chemistry degree at Wichita State University later this month. "It's been fun hanging out," she said. "It's good to see everybody and get to reconnect with people." She said some of her classmates returned for the weekend, and she also reconnected with faculty and staff.
"I went up with my college roommate and we looked at our dorm room our sophomore year," she added. Her roommate, Emily Kirk, works as an admissions counselor at Hesston.
An observer of the two-mile run-walk was Hannah (Schrock) Gehman, a 1981 graduate, who was excited to be back on campus. She and her husband Mike Gehman and daughter Briana traveled from Dalton, Ohio, to visit Laura, their daughter, a freshman. "It's fun to see the people, and to see the improvements on campus-the buildings and the landscape," she said. "I'm impressed how happy the students are and how they love being here. It's also neat to see some traditions carried on, like the talent show and going to Druber's (Druber's Donut Shop in Newton)."
About Laura at Hesston, she said. "She loves it. She's adjusted so well. She's found a second home."
Events on Thursday, November 27, included the annual Thanksgiving buffet prepared by Food Service staff and enjoyed by 460 people.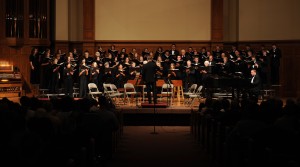 Later that evening, a 65-voice choir composed of Hesston College students and community members presented a choral concert featuring Antonio Vivaldi's Gloria. Bradley Kauffman, music faculty member, directed the combined choir and a chamber orchestra. A talent show closed out the evening's events.
Meanwhile, the Hesston College Music Department presented "Secrets Every Smart Traveler Should Know" Friday and Saturday evenings (Nov. 28-29). The 1997 off-Broadway hit was a hit on campus, with both shows selling out. The musical comedy revue was inspired by Wendy Perrin's Secrets Every Smart Traveler Should Know (published by Fodor's).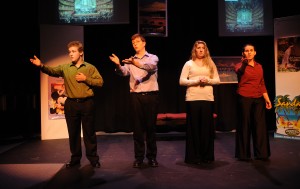 A Music Department concert Friday afternoon featured the Hesston College Chorale, Wind Ensemble, Bel Canto Singers, Men's Ensemble, and Women's Ensemble.
More than 100 prospective students (and many of their parents) visited campus during the holiday weekend, one of the biggest visit weekends for prospective students all year. Events for prospective students included mini-college classes, meetings with instructors, a men's soccer tournament, a women's soccer tournament, a volleyball scrimmage, and music and theatre scholarship auditions.
In the annual Pizza Hut Thanksgiving Women's and Men's Basketball Classic, the Hesston College women's team won both of their contests. Larks sophomore Amber Block, Henderson, Neb., and freshman Kari Heusinkveld, Goshen, Ind., were selected to the all-classic team, while Heusinkveld was named Most Valuable Player.
The Hesston College men's team won one game and lost one during the men's classic. Sophomore Joey Atkinson, Edmond, Okla., was named the Most Valuable Player for the men's competition, while he and freshman Raphael Todd, Tulsa, Okla., were named to the all-classic team.
Following the Larks women's basketball game Saturday evening, former Larks women's coach Joel Kauffman, now vice president of admissions, was honored for 21 years of service to the women's basketball program and to the college.
Other weekend highlights included a breakfast sponsored by the Student Life Department for parents of prospective and current students; an art exhibit of oil paintings by local artist Joseph Loganbill of Newton; and a Luminary Walk at Dyck Arboretum of the Plains .