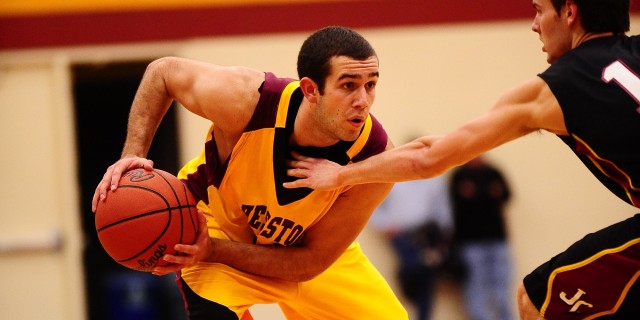 Tyler Mitchem
Hometown
North Newton, Kan.
Class Year
2011
Major
Clubs & Activities
What drew you to Hesston College?
The men's basketball coach, Dustin Galyon, is the person who first brought my attention to Hesston College with his recruiting style and ambition to get me on campus for a visit. Basketball is what caught my interest, but the people I met during my campus visit – from admissions counselors to students to professors – are what brought me to Hesston College.
How challenging are the academics at Hesston?
As a freshman, I felt all the classes were challenging and I was constantly stressed, but as I learned to study and understand what professors expected, the academics became easier.
What was your favorite course in your department? Why was it your favorite?
My favorite business class was business communications. I liked the small size of the class and the one-on-one interactions with the professor, David LeVan. I was able to connect the class into all the other fields of business.
What was your favorite of all the courses you have taken here? Why was it your favorite?
My favorite course to have ever taken at Hesston College is either my Writing I or Writing II course with Karen LeVan. These are the two courses where I would say I learned how to think and learn more about my beliefs. I also enjoyed just stopping in to talk with Karen from time to time. She genuinely cared about how I was doing.
What are the professors like?
All the professors I have been in community with from the education and the business programs take a personal interest in each student, which is tremendously motivating. They work with students on understanding the material and engage them on a personal level so the student can be comfortable and learn in their own manner.
Which people at Hesston have helped you grow the most?
I have had a number of people on campus who have helped me to grow as an individual, but the two that stick out the most are Don and Pam Weaver. They were my mod parents both years and while they provided a place to escape from the college campus when stress levels were high, they also helped me think through situations I faced. Together they have been like a second set of parents for me away from home.
Did you find opportunities for learning experiences outside the classroom?
I have had a lot of learning experiences outside the classroom. Being a member of the basketball team for two years along with being a RA as a sophomore put me in situations I would never have imagined facing when I first came to Hesston College, but they helped me grow. The basketball team faced a lot of emotional ups and downs with wins and losses, and being a RA has helped me become more compassionate toward others.
When did you first know you wanted to study business education?
Early during my high school years I knew I wanted to be a teacher. After taking an entrepreneurship and marketing class my senior year, I realized I wanted to be a business teacher.
How have your experiences at Hesston shaped your future?
Hesston enabled me to gain relationships that helped shape who I am. It also allowed me to gain contacts for my future pursuit of becoming a teacher and coach. Had I not come to Hesston, I would not have had many of the opportunities I've had.
How have you experienced faith and spirituality at Hesston?
When I came to Hesston College, I had a very sound base in Christ, but wasn't necessarily as opened minded as I needed to be. Hesston challenged me, which allowed me to grow in my relationship with God. I felt welcomed to share my thoughts and personal beliefs with faculty and fellow students. Coming to Hesston gave me opportunities to strengthen my own beliefs, but more importantly, challenged me and forced me to search for answers.
What are some of your most memorable moments as a student at Hesston?
My most memorable experiences are the late-night activities in the mod. There were a lot of nights we stayed up late playing video games and having fun.
What does the "Hesston Experience" mean to you?
The "Hesston Experience" means being more than just a number, while at the same time being challenged academically, emotionally and philosophically. Hesston College gives students opportunities to meet goals and expectations by having resources available to them.
What surprised you most about Hesston?
What was most surprising for me was that the professors truly care about their students. Every school claims that their professors care about the students and view them as more than a number, but many of my friends at other schools do not have the connection with their professors that I had with mine. I had professors who I had during my first semester as a freshman who continued to stop to listen to me and actively engage me in communication even after I was no longer in their classes.
What are your plans after Hesston?
I am going to continue my education in pursuit of my degree in business education at Tarleton State University (Stephenville, Texas) or West Texas A&M University (Canyon). They are both division two schools that are a part of the Texas A&M system, so they will both be academically strong.