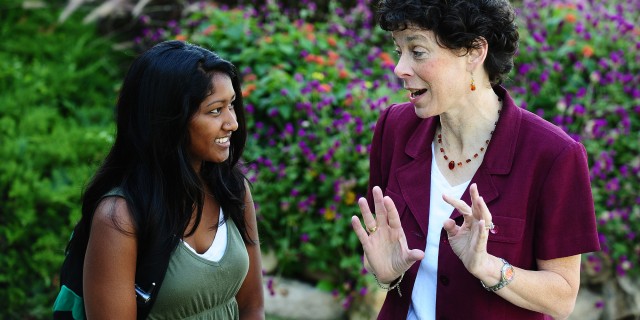 Shawnti Peachey
Hometown
Corvallis, Ore.
Class Year
2011
Major
Clubs & Activities
What drew you to Hesston College?
I came to Hesston College because I had only heard wonderful things about the community. I liked the fact that it was a two-year school because I didn't know what I wanted to major in and I could not see myself in any place for four whole years. I received some generous scholarships as well as made it into Bel Canto Singers, so I decided to give Hesston a chance, and I am glad I did!
How challenging are the academics at Hesston?
The academics at Hesston are as challenging as you make them. I appreciate that Hesston allows and accommodates for a variety of student learning styles, as well as professors who vary in teaching styles. Hesston allows you to learn how to push yourself and take responsibility for your learning.
What was your favorite social work course? Why was it your favorite?
My favorite course was Introduction to Social Welfare because the content of the class was a subject I find very interesting. Each subject we learned about was exceptionally thought provoking and our class discussions were particularly productive. I liked that it related to everyday situations, as well as related to my own personal morals and stances.
What was your favorite of all the courses you have taken here? Why was it your favorite?
My favorite course was definitely Peacemaking and Justice with Marion Bontrager. I have never had so many identifiable "lightbulbs" come on in my head and heart. The class not only allowed me (in my own time) to piece together what I have learned my whole life about who Jesus was in a tangible and relevant way, but also boosted my ability to be a critical thinker and changed the way I view events and take in experiences. I can tell I have had a switch in my thinking, and since I took the class I have had a renewed interest in all other areas of learning.
Courses such as Astronomy with Jim Yoder and John Sharp's history classes are also vitally important classes that I gained much from academically as well as related my perspective as a follower of Christ in this world.
What are the professors like?
The professors who teach sociology and psychology and the courses that touch on social welfare are special people because they think and teach in the same way that a social worker must act. They are able to consider the different ways people think and learn and they adjust accordingly. These professors also know how to relate to each student on a personal level. They have the ability to lead and direct conversations about the most difficult situations that humans deal with in a way that allows everyone's thoughts to be shared equally. These professors create a safe environment for sharing and conversation.
Did you find opportunities for learning experiences outside the classroom?
I was a part of the Big Brothers Big Sisters of Kansas program. This was the most meaningful experience during my time at Hesston for many reasons. I was matched with a young lady who was in the 8th grade. I appreciated my interactions with her because they gave me a chance to relate to someone other than my peers. I enjoyed being a sort of mentor for this young woman, but in turn, she became one of my friends. She gives me much hope for the future.
When did you first know you wanted to study social work?
I have always been interested in the adoption field because I am adopted, but this became most clear to me after I spent six months working in a children's home in South Africa. After those six months I came to Hesston and was interested in social work, but it was not until I took Introduction to Social Welfare that my idea of studying social work solidified. I am still not 100 percent sure that is the direction I will take, but one thing Hesston has taught me through allowing me to experiment in different fields of study is that I could be happy with a degree in almost anything. It's more a matter of choosing a degree that will enable me to accomplish want I want do in the field of adoption.
How have your experiences at Hesston shaped your future?
Hesston has solidified my foundational beliefs, strengthened my sense of self and made clear what is most important to me. I feel well, if not overly, prepared for whatever my future holds. Hesston has taught me the value of being accepting, flexible and a critical thinker, all valuable skills that allow a person to adjust to any situation.
Have you had experiences here that you don't think you would have gotten at another college?
I think that Hesston offers special and unique opportunities to have personal friendships with professors. Often at the university level there is a distinct line of respect that is drawn between students and professors, but in my opinion, Hesston College has mastered the art of keeping that same respect while also having positive interactions. This starts with the fact that at Hesston we call everyone by their first name, students and professors alike. This creates an atmosphere for learning that is open and accepting. Professors also keep their office doors open, which is inviting. Some of my most stimulating learning experiences have been from taking time outside of class to sit with a professor and talk more in depth about concepts that I am learning or struggling with.
How have you experienced faith and spirituality at Hesston?
I have been encouraged to think critically about my beliefs. Hesston College has provided a place for me to question and to not have everything immediately figured out, but rather it's been a place to hold those thoughts and leave space for the numerous answers, or in the case where there are not answers, to learn to live in acceptance of that. I have learned to be accepting of other denominations and of what they have to offer. I have learned to live the paradoxes of life, to hold two potential answers in my head and live in the tension of those answers and to think about faith, beliefs and interactions with God in a spherical sense as opposed to just one dynamic level. My definition of "spirituality" has expanded in a way that makes me a spiritual being in a very open and accepting way.
What are some of your most memorable moments as a student at Hesston?
My most memorable moments have come from the constant, simple, everyday interactions and late nights of studying or going to dinner with friends and taking time to sit and converse with each other.
What does the "Hesston Experience" mean to you?
Hesston was a good place for me to take the time to process ideas, concepts and doubt, and to have friends, professors and a greater community that was supported me when I needed it. I came away from Hesston with a stronger sense of self and foundational beliefs.
What are your plans after Hesston?
I am doing a year of service with the MCC SALT program (Mennonite Central Committee, Service And Learning Together). I will be living with a host family in Durban, South Africa, and volunteering my time in a childcare/daycare facility with refugee children. After my year in South Africa I plan on finishing my social work degree. Someday I hope to work with international adoptions.