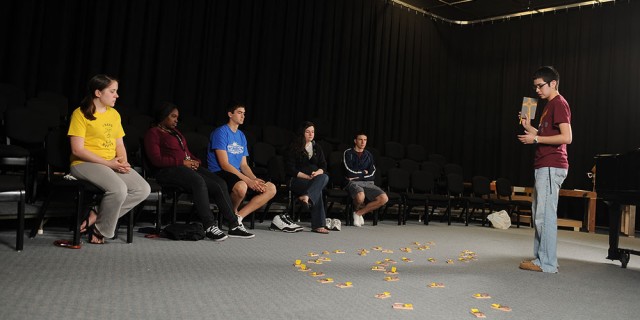 Robert Ketcher
Hometown
Bunch, Okla.
Class Year
2012
Major
Clubs & Activities
Ministry assistant, cross country
How did you choose Hesston College?
I came to Hesston for two reasons – for cross country and because I wanted to attend a Christian college. I went to a high school with a high dropout rate and a lot of parties, and I wanted a change from that. It was important for me to find a school that shared my values. Coach (Gerry) Sieber found me on BeRecruited.com and was interested in having me run cross country. When I visited the campus, everyone was so friendly, and they weren't just being nice because I was a visitor – that's how it is every day here. I knew it was going to be a good fit for me.
What are your future goals with your major?
I would like to design churches, schools and homes someday. I also want to use my major to help my home community. There is a lot of room for improvement and bringing more things to do in my community. Jobs and money are very important, and with the price of gas going up, it's becoming more difficult for people to go to other towns for entertainment. I want to find ways to provide things like a fitness center for the community. I want to make things look better, neater and cleaner – that's just the kind of person I am. I would also like to build a big church camp for the community to use and to be a kind of outreach for people.
What has been your experience with the cross country team?
The cross country team is like a family. In high school, the teams I was on were really focused and serious, so having that closeness with the team is something new for me. Running for Coach Sieber is great. He's encouraging, supports us and checks on our grades and how we are doing. He is a great example for me. I have never had a coach that talks about Christ during practice.
What made you decide to be a Ministry Assistant at Hesston?
I come from a traditional Native American home and am part of the Keetoowah and Creek tribes. Our heritage, traditions and practices are very important to us. But during high school, I became a Christian. I helped lead Bible studies and Vacation Bible School at my church, Calvary Southern Baptist Church. During my freshman year at Hesston I struggled with being in a new place and with my Christian life. I heard about Ministry Assistants and I wanted to be more involved as a way to further connect with my peers. It has been a wonderful experience, and I have learned more about myself and how I relate to people. I led a Bible study all year, and I think the Lord has put the desire to be a leader in that way in my life.
What is your favorite part about Hesston College?
My friends at Hesston are an answer to my prayers. The people I hung out with in high school were a bad influence for me. But with my Hesston friends I can talk about Christ, I can relate to them and they can relate to me. I brag a lot about them back home. My mom wants to meet them, and she is proud that I have them. I will miss the people here a lot.
What are your plans for next year?
I am going to Eastern Mennonite University (Harrisonburg, Va.) where I will continue cross country. I hadn't heard of EMU before, but the coach had heard about me. I also have a lot of friends going there as well, which is great because I didn't want to start at another place without having the comfort of knowing anyone.