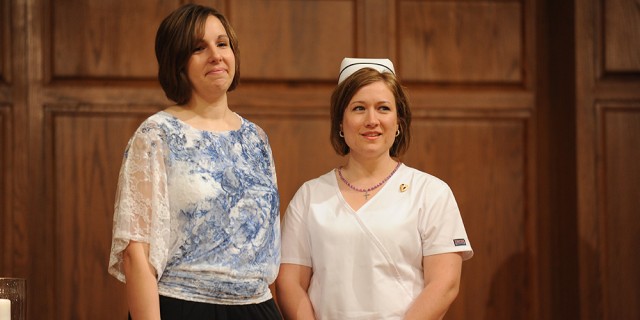 Rebecca Bonam
Hometown
Valley Center, Kan.
Class Year
2012
Major
Why did you want to pursue nursing?
I enjoy helping people and I was looking for a flexible career that would enable me to effectively balance the demands of work and family.
Why did you choose the Hesston College nursing program?
I had heard of Hesston's reputation for excellence and that the nursing program was unlike others, in that they integrate the holistic aspects of nursing with the demands of critical thinking.
Was Hesston College your first higher education experience?
Actually, no. I have attended six other colleges. I took college classes in high school, when I was newly married and working full-time and while my children were babies and toddlers.
What did you like most about the nursing program?
I liked the program's commitment to excellence to train future nurses, the ability to guide students to become critical thinkers and the instructors' uncanny ability to know when to encourage, to push when you need to "step up to the plate" and let go when it is time to "prove yourself." The Hesston College nursing program accomplishes all of these with the grace and excellence that is a one-of-a kind balance.
What are the professors in the nursing program like?
The instructors each bring their own values, skills and personalities to class. They have their own unique way that they see each student – as the individual that he or she is – and then they work with the student to develop their gifts and interests. As a whole, they are a group that is a harmonious and works well together. They are intelligent individuals, competent and professional, and yet each of them has a gift of compassion that is uniquely expressed based on their personalities.

In the end, my perspective will forever be humbled by the great and gifted instructors from whom I had the opportunity to learn. The Hesston College nursing department and the uniqueness of each instructor is a wonderful gift to the world of nursing.
What are some of the challenges of being a non-traditional student?
One challenge for me was time management. When you're a non-traditional student you have demands outside of just being a Hesston College nursing student. For me, personally, those demands included time in class, studying, work, children and a husband who has a very demanding career.
What are some of the benefits of being a non-traditional student?
As a non-traditional student, you have lived enough of life to realize that you have much more to learn, you're committed to the end goal, you have some core support and, for me, I have a faith in a God who made me and is directing my ways.
How have your experiences at Hesston shaped your future?
Hesston College allowed me the opportunity to develop abilities that I didn't know I had and taught me to never give up.
Did you have classes outside of nursing classes that you enjoyed?
I enjoyed the economics classes I took in the business department. I enjoyed learning how everything within the world is interconnected through monetary systems, environmental factors, politics and supply and demand.
What surprised you most about Hesston?
I was most surprised that everyone on campus truly values the God-given differences of each student. Faculty and staff appreciate each person for the individual they are.
What does the Hesston Experience mean to you?
The Hesston Experience is understanding what unconditional support looks like. I learned what it meant to be challenged beyond what I ever thought was possible. Hesston College is a place that I will forever be grateful to have as a part of me. It was more than just some nursing school experience; it was life-changing for me.
What are your plans after Hesston?
I will complete my RN to BSN (Registered Nursing degree to Bachelor of Science in nursing degree) online. I hope to work in a Medical Surgical unit, to share the holistic perspective I learned at Hesston with the patients I serve and to be a compassionate, critically thinking nurse.
What advice would you give a non-traditional student who is considering going to school?
I would say to seriously consider Hesston College because it is a great environment for helping you grown into the professional that you want to become. Don't let the laundry get to you when you have work to do for school because you're only there for such a short moment in time. Savor every demanding moment because in a blink, and with a lot of hard work, emotions and caffeine – you're done.