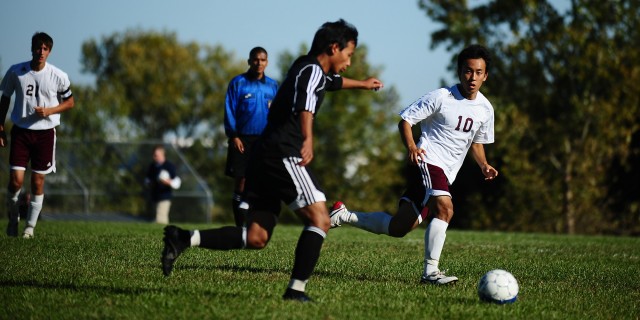 Masaki Kato
Hometown
Tokyo, Japan
Class Year
2011
Majors
Clubs & Activities
What drew you to Hesston College?
I met Dave Osborne and President Keim when they visited Tokyo. After talking with them, I thought that Hesston would be a good place for me to begin my studies.
How challenging are the academics at Hesston?
The academics are challenging not only because of the amount of homework, but also because I had to do everything in English. International students need extra time for English.
What was your favorite business course? Why was it your favorite?
Financial and managerial accounting and macro- and micro-economics were my favorite classes. I enjoyed the small class sizes and the professors' energy.
What was your favorite of all the courses you have taken here? Why was it your favorite?
Calculus I, II and III are my favorite classes at Hesston. I like mathematics because math equations are one of the beautiful things in the world.
What are the professors like?
My business professors were vital to me. They always cheered me up both in and out of the classroom.
Which people at Hesston have helped you grow the most?
I appreciate Dave Osborne, who is the international student advisor. He helped me a lot both on and off campus. Also, I appreciate all my roommates and friends because they helped me with my English and asked me to hang out.
Did you find opportunities for learning experiences outside the classroom?
There are many learning opportunities outside of the classroom. I learned a lot by playing soccer. I learned different cultures on the field because we had several international players on the soccer team.
When did you first know you wanted to study business accounting?
I didn't go to college straight after high school, so I had enough time to think about my life, career and major. I found out what I wanted to do in my life during that time.
How have your experiences at Hesston shaped your future?
I'm glad starting at Hesston College was my first step in the U.S. This small community has helped develop my skills, which will influence my success in the future.
Have you had experiences here that you don't think you would have gotten at another college?
I grew up in Tokyo so Hesston College was a totally different world to me. This small community welcomed me like family, and I know I won't have the same experience at another college.
What is it like to be a member of an athletic team at Hesston? What kinds of opportunities did you have with your teammates?
The soccer team is like a family. I enjoyed practicing and hanging out with my teammates, and it was easy to talk to the coaches. The men's soccer team has international players every year, so it's fun to be a part of.
What does the "Hesston Experience" mean to you?
The Hesston Experience is special to me. It's important because I will never have the same experience again in my life. The Hesston Experience is just a couple years' experience, but it has brought so much value to my life.
What surprised you most about Hesston?
I was surprised by how kind and friendly people at Hesston College are. I enjoyed meeting people who come from different backgrounds than me.
What are your plans after Hesston?
I am transferring to Baylor University (Waco, Texas) and will eventually finish a master's degree. After college I plan to take the CPA exam and start working as an accountant.