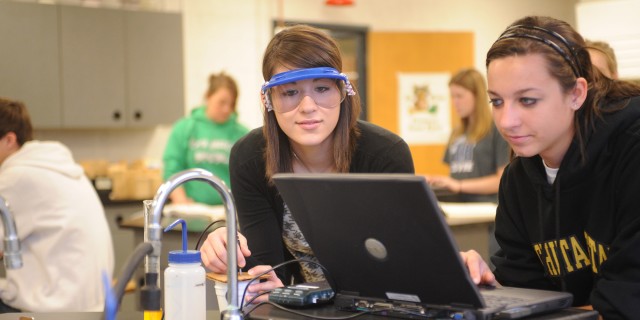 Lynae Wright
Hometown
Little River, Kan.
Class Year
2010
Major
Clubs & Activities
What drew you to Hesston College?
I was drawn to Hesston because on my visit everyone was very friendly and helpful. I also knew that Hesston is a strong academic school and that I would be challenged and well prepared for whatever I decided to take on after Hesston.
How challenging are the academics at Hesston?
The academics at Hesston are very challenging. It definitely has not been easy by any means for me but it just lets me know that I am getting well prepared.
What is your favorite course in the sciences?
My favorite course so far in the science department has probably been Zoology even though it was definitely my hardest. Zoology turned out to be a lot like Anatomy and Physiology (which I took last year in high school and loved!) because we learned about all the systems of the body. When Zoology was kind of the same thing as A&P, just more intense and in more depth, I really enjoyed it. I'll take A&P again next year at Hesston.
What are the professors like in your program?
All of my professors have been very helpful in their instructing and are just very welcoming and friendly people. I have always felt comfortable going to talk to them about anything. I also think it's very nice because I can tell they love what they do and then it just makes me more open to learning when I know that they love it.
Which people at Hesston have helped you grow the most?
I have to say that I have developed a great respect for my coach, Dan Harrison. He has been such a great figure for me here at Hesston. I haven't had the chance to have him as a teacher but he has kind of played a fatherly role here for me at Hesston. He knows when I'm not having a good day and he talks to me about it and I feel comfortable talking to him.
Even though he's my coach, he doesn't treat basketball as if it's my whole life. He knows that I have a spiritual aspect, family and then the academic aspect to my life as well and that those come first. My relationship with Dan is very important to me because I know if I ever need anything, I can turn to Dan and he would be there in a heartbeat. I like having that feeling and knowing that.
Did you find opportunities for learning experiences outside the classroom?
There are plenty of opportunities for learning experiences at Hesston. They have so many trips and other options that students are welcome to be a part of. I can't say that I have been on a trip or anything yet but I hope to next year. But I also think one of the most important learning opportunities just goes with getting to know other people especially from different countries. That, to me, is a huge learning experience in itself.
When did you first know what you wanted to be?
I haven't always known what I wanted to be, I just knew that I wanted to work in the health/biology field. I am still not exactly for sure if I will be a physical therapist, or a kinesiologist or something else but this field is where my interest is.
How have your experiences at Hesston shaped your future?
I think my experiences at Hesston have shaped my future because I have gotten to work hands on in the labs and really get my feet wet in some areas. I'm not having to sit back but I get to do the work. I think this is going to be very valuable once I move on from Hesston. So whenever I decide exactly what I am going to be I feel that because I was able to do the work myself I will go into my next college or a job a little more confident.
What are some of your most memorable moments as a student at Hesston?
Some of my most memorable moments have come from basketball road trips or just homework parties. The basketball road trips are memorable because I have gotten really close to my basketball girls during this year and we have made a really close bond. I had so much fun with them and have made so many memories with them. I also say the homework parties are memorable because homework isn't usually fun but when you are sitting around doing it with many other people, that's fun. There are times where it isn't always productive, but we manage to get back on track and get things done. This is another time that is serious for awhile but can be silly and can also be bonding time.
What are your plans for after Hesston?
I plan to attend Wichita State, KU, or K-State and finish my degree. I know that I have probably about four more years of schooling after Hesston no matter what but I will finish my degree wherever God leads me.