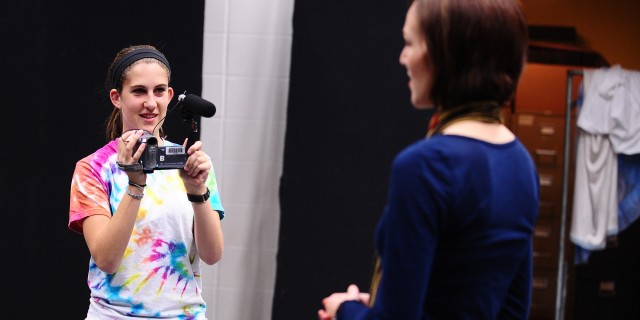 Lauren Weaver
Hometown
Hesston, Kan.
Class Year
2012
Clubs & Activities
Resident Assistant, Cross Country, Bel Canto Singers, Concert Band, Sustainability Club
What drew you to Hesston College?
I really loved the atmosphere when I came to visit, and I grew up near the campus so I knew it pretty well. My parents both came to Hesston and I knew that I would love it too!
How challenging are the academics at Hesston?
The academics are challenging but not as hard as I thought college would be. I am challenged in and out of the classroom daily, but these challenges are helping prepare me for life after Hesston.
What was your favorite of all the courses you have taken here? Why was it your favorite?
I think one of my favorite classes was U.S. History with John Sharp. I never thought I would enjoy that class, but John brings an exciting side to early U.S. History that I never heard before.
I also really enjoy Bel Canto. The group is so great and there is never a dull moment. We are a close-knit family and I love being able to sing with such a talented group of people.
What are the professors like?
All of my professors have taught me new things and helped me expand my knowledge. My Mass Communications professor, Kendra Burkey, did an excellent job showing us how media shapes our world every day. She is easy to talk with and I can tell she has a passion for communications and journalism. She definitely inspires each of her students. In my photography class, Lois Misegadis helped me understand how photography is more than just taking pictures. Bradley Kauffman is an outstanding Bel Canto director, and I know he loves what he does. I also have an amazing voice teacher, Holly Swartzendruber.
Which people at Hesston have helped you grow the most?
I have built a strong friendship with one of my professors, Karen Sheriff LeVan. We talk about life issues outside of class, and she has become someone I know I could go to and talk with anytime of the day. She is so smart and is an excellent professor. She challenges me to reach beyond what I know I can do.
Did you find opportunities for learning experiences outside the classroom?
In cross country, our coach, Gerry Seiber, teaches us more than just how to run well. He takes the time to teach us about our health and connects with the team as much as he can.
I also learned a lot through Sustainability Club, and how to change the way students think about recycling and re-using. Karen LeVan taught us that we can do so much more than we think, and she knows that step-by-step we can change this campus and the world.
When did you first know you wanted to study communications?
I have been interested in videography since 8th grade, but it wasn't until my junior or senior year of high school that I realized I actually want to work with videos or photography the rest of my life. When I started college, I was debating between a communications or music major. After being here a year, I have decided that I want to really focus on communications and have my musical skills as a hobby.
How have your experiences at Hesston shaped your future?
I have learned how to think on my feet and apply my knowledge to everything I do. After Hesston, I feel that I will be able to accomplish anything, from academics to music to running and staying fit. Hesston has helped me become less shy and I have been involved in countless activities and opportunities.
Have you had experiences here that you don't think you would have gotten at another college?
I have had many opportunities at Hesston that I would not have gotten anywhere else. I helped with a promotional campaign for the college where I video interviewed students on campus for a piece shown at college fairs and online. I have had other opportunities to create videos for Sustainability Club and First Year Experience Seminar. At a lot of other schools, I wouldn't have the opportunity to do things like this as a freshman and sophomore.
How have you experienced faith and spirituality at Hesston?
In cross country, we incorporate prayer with our races, and during Bel Canto tours we did more than just sing – it was a time of prayer and reflection as a group. I love that when something happens to a student here on campus, we can just pause during class and pray for them. I have never before experienced this, and I have grown immensely from it.
What are some of your most memorable moments as a student at Hesston?
Living in the mods and getting to know some amazing people are my favorite memories. We pull harmless pranks on people and I love being able to do spontaneous things with random people late at night.
What is it like to be a member of Bel Canto and Concert Band at Hesston?
I love Bel Canto because we have had many opportunities to sing off campus, like going to Texas for fall break and a two-week summer tour of the west coast. We also had several on-campus and off-campus concerts with Concert Band. Through Bel Canto and concert band I have gotten to know so many more people that I would have never talked to otherwise.
What does the "Hesston Experience" mean to you?
To me, the Hesston Experience means a variety of things. I think of close friends, fun and crazy times, amazing and challenging classes, late night runs to Drubers or Newell's and mod life.
What surprised you most about Hesston?
I love being a part of so many different things all at once! I never thought I would be able to run cross country, play in the band, sing in Bel Canto and create videos on the side.
Something else that surprised me is the friendships I have made here. Sure, I knew I would create long lasting friendships at Hesston, but I didn't think these friends would help me in my life as much as they do. The people here are amazing. I have never had a dull moment on this campus!
What are your plans after Hesston?
I want to continue studying communications at a Mennonite college – either Eastern Mennonite University (Harrisonburg, Va.) or Goshen (Ind.) College.