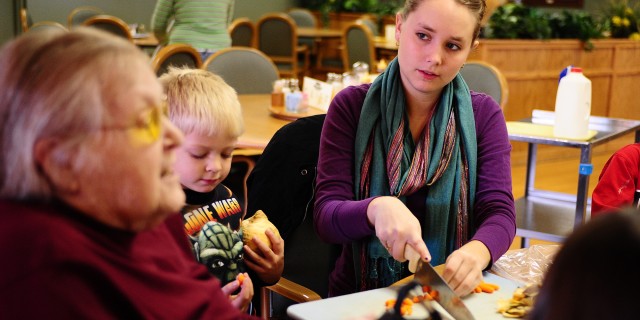 Kirsti Graffenberger
Hometown
Albany, Ore.
Class Year
2011
Kirsti Graffenberger almost didn't come to Hesston College. It's not that she didn't like the campus and people when she visited. It's just that Oregon is a really long way from Kansas.
Now, having finished her third semester at Hesston College with only one more to go before graduating in May and transferring to the next college of her choice, Kirsti realizes what she would have missed if she had decided to forego Kansas. She would have never known the faculty members who have encouraged her to find her passion, she wouldn't have taken a Spring Break service trip to Haiti with five of her closest friends and she wouldn't have had the same opportunity to get hands-on experience in her field of study as a sophomore.
When Kirsti arrived on campus she was still deciding on a major. Since then, she has chosen nutrition and dietetics and has recently completed a semester-long cooperative education placement at Schowalter Villa where she shadowed the nursing home's dietician and learned the ins and outs of the job.
"I chose Hesston because both of my parents came here and encouraged me to visit," said Kirsti. "On my campus visit I told everyone I probably wasn't going to come. When I got home, I told my parents I liked the college, the community and the campus life, but it was too far away."
A couple of weeks before she graduated from her Albany, Ore., high school in 2009, something changed Kirsti's mind, and she told her parents she was going to Hesston College.
Kirsti job shadowed a dietician in high school, which introduced to the field. The experience she has gained since becoming a Hesston student has allowed her to test that option and reinforce the ideas for her future.
Spring break 2010 took Kirsti and five other Hesston College students to Haiti only two months after the island nation's devastating earthquake. The students took food and other supplies to the survivors and spent time working in an orphanage.
"Coming to college, I wanted to help in other countries and major in something that can be taken globally," said Kirsti. "Going to Haiti allowed me to see what an issue hunger is in so many places. I want to help stop it, and dietetics is a place to start. A lot of organizations are looking for dieticians to help people find affordable and nutritious food no matter their situation or location."
The fall 2010 semester cooperative education placement allowed her to gain practical knowledge and experience in the daily work of a dietician. Kirsti worked side-by-side with Schowalter Villa's dietician Carole Stevens for one day a week. She observed daily processes and meal rounds, learned how to read charts, assessed patients and helped plan diets for individual residents. She also went with Stevens to Hunter Health Clinic Diabetes Care Center, a clinic in Wichita for uninsured or under insured diabetics. There she observed direct counsel with clients on how to eat healthier to treat their disease.
When a resident at the Villa started a monthly nutrition class for other residents, Kirsti helped with one of the month's presentations on rutabagas. She researched the benefits of the vegetable, found recipes for the nursing home kitchen to prepare and presented her findings to the residents and a group of daycare children.
"The co-op placement has helped me figure out what I want to pursue," she said. "Until I had this opportunity I didn't know exactly what being a dietician entailed. It has been an eye opening experience, but has confirmed that I am heading in the right direction."
Kirsti's placement was set up with help from her academic advisor Deb Roth after seeing her excitement and confirmation of purpose upon returning from Haiti.
"Nutrition is a field in which Kirsti can experience an intersection of her interest and the needs of the world," said Roth. "She was very enthused to have a hands-on opportunity. I knew she would represent Hesston College well in this role and that the Villa would love having her observe and work with residents."
Once she finishes her degree, Kirsti thinks she will look for her first job as a dietician in a hospital or similar environment. She most enjoys working directly with patients and counseling them in good nutritional practices. Eventually she hopes to end up with an organization and working with people overseas.
Stevens, Kirsti's placement supervisor, was pleased with the natural ability she had to communicate with residents, and believes she will be successful in her future endeavors.
"I appreciated Kirsti's ability to interact with people of all walks of life," said Stevens. "I look forward to a few years when she will be a colleague in the field of dietetics."
Kirsti doesn't have any definite decisions made for after Hesston at this point. She knows she will continue her education, but her two years in Kansas have made distance much less of a factor this time around as she is considering schools in Pennsylvania, Oregon, Ohio and Washington.
"Hesston College has prepared me well," said Kirsti. "Even my most basic classes have been challenging. I like the small classes where I can get so much more help. I have gotten the help I need here – whether it is in the tutoring lab or directly from a professor. I don't know if I would feel as comfortable asking a professor for help anywhere else."