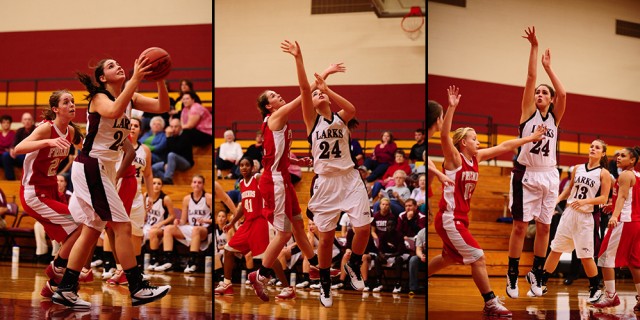 Kara Stutzman
Hometown
Hesston, Kan.
Class Year
2012
Clubs & Activities
Student ambassador, Chorale, women's basketball team
How did you choose Hesston College?
Going to Hesston College has been a tradition in my family. My parents, brother, aunts, uncles, and cousins have all attended. I was told from a young age that I could go wherever I wanted but when I visited Hesston I knew it was right for me; this is the place I felt most at home.
What is your major and what do you enjoy most about it?
At this point I am considering a liberal arts degree with a minor in business. I enjoy the freedom that a liberal arts degree gives me. I would like to work with people, and that can happen in a number of different ways.
What are your future goals with your major?
I would love to work in an organization, perhaps in a managerial role, where I am helping people. While at Hesston I learned that it is important to see the business side but also to see the relational side.
How did your classes prepare you for your future pursuits?
I took a variety of different courses. Since I took classes from all fields, I think it will make me a more well-rounded person. I can see things from different perspectives, which will show I have a lot to offer future employers.
What was your favorite class at Hesston?
My favorite class was Human Thought and Belief because I was encouraged to figure out what I believe and why. It was so interesting to see people from different backgrounds come together and have a discussion about our beliefs.
What are Hesston College professors like?
Hesston professors are some of the greatest people I have ever met. I have been so encouraged by my professors, and it has resulted in my working hard. I feel like they really care about how their students do not only in the classroom, but also in life.
Which people at Hesston have helped you grow the most?
My friends and classmates have helped me to grow. I have had some of the most in depth and challenging conversations at Hesston about faith and my outlook on a number of different issues. Hearing a different side about an issue can either make you question your beliefs or become more secure in them.
What are some of your favorite memories from Hesston?
I have had countless amazing memories at Hesston. I have been to Druber's and Newell's too many times to count. I have enjoyed campus-wide capture the flag, ice skating and mod activities. Basketball also played an important role in my time at Hesston; my team is like family.
How have your experiences at Hesston shaped your future?
My experiences at Hesston showed me that there really is a big future ahead of me. I learned about different cultures and diversity. The connections I made with people taught me that relationships are what matter most.
What does the Hesston Experience mean to you?
There is just something special about this place. At Hesston, I made friends for life, I learned more about myself and others than I thought would be possible and I strengthened my relationship with God.
What are your plans after Hesston?
Next year I plan to attend Eastern Mennonite University in Harrisonburg, Va.