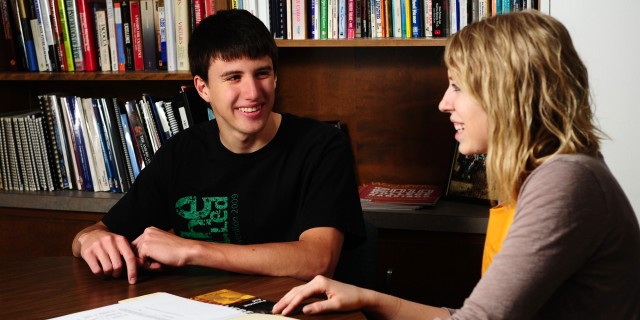 Jonathan King
Hometown
Hillsboro, Kan.
Class Year
2012
Majors
Clubs & Activities
What drew you to Hesston College?
I wanted to go to a Christian college that was fairly close to home. My dad had gone to Hesston as well, so that influenced my decision a bit. I also liked the campus when I came to visit, and the people were very welcoming. Another aspect that drew me to Hesston was the opportunity to play soccer.
How challenging are the academics at Hesston?
I do feel that the academics have challenged me, but at the same time I haven't gotten frustrated to the point where I feel incapable of doing the work.
What was your favorite course in your department? Why was it your favorite?
Chemistry I was my favorite course. I think that chemistry is interesting, but Jim Yoder made the class even better. He is a great professor with a lot of experience. Jim had us do a variety of activities to help us learn the subject matter, and most of them were fun activities, especially the labs.
What are the professors like?
The professors in my department relate class material to my major and it's always fun to see those connections. Overall they are very supportive, and I can tell that they want to see me do well in my career.
Which people at Hesston have helped you grow the most?
My RA (Resident Assistant) and friend, Tyler Mitchem, helped me grow as an individual. Right away he wanted to get to know everybody in the mod, and he made sure that we all knew each other. He challenged me to consider other viewpoints, but also listened to my views and what I had to say. He helped me balance my time between soccer and academics, and was a blessing to have as an RA.
Did you find opportunities for learning experiences outside the classroom?
Although I have learned a lot in the classroom, soccer has been a huge learning experience for me as well. I played soccer before coming to Hesston, but looking back I realize how much I have learned from Coach Kurt Hostetler, and how much I have improved from when I first started.
Living in the mod is very different from living at home, and has been fun, but you could also consider it a learning experience. Living in a community is new for me, and I really enjoy it. Living in the mod with all your friends is one of my favorite Hesston experiences.
When did you first know you wanted to study meterology?
I first became interested in meteorology when my family moved back to Kansas after living in Mexico for five years. I realized how active the weather was in Kansas, and it fascinated me. After one storm knocked over a tree in our yard and blew the roof off of a shed, I really got interested in weather.
How have your experiences at Hesston shaped your future?
Coming to Hesston and everything that has happened to me here has challenged me to think about and form my own opinions on different issues.
I was also given the opportunity to participate in an internship with WeatherData, where I worked several days a week to gain experience.
Have you had experiences here that you don't think you would have gotten at another college?
Hesston is a unique college and I really appreciate the small size. Even though I may not know the names of every single student or faculty on campus, I do recognize them. I like knowing most people on campus because it makes it feel like a true community. I can't imagine going to a larger school now that I have come to Hesston and liked it so much.
How have you experienced faith and spirituality at Hesston?
My faith has been challenged and supported at Hesston College, and because of that, I have grown to be a stronger Christian. My friends and I challenge each other in our faith, and consequently, we grow. Student-led Campus Worship takes place every Sunday evening, and it's always worshipful, inspiring and fun.
What are some of your most memorable moments as a student at Hesston?
>There are many things about Hesston that I will never forget – going to Newell's or Druber's late at night with a group of friends is always a good time. Mod activities like pick-a-date and going over to the mod parents' house for Superbowl and Final Four parties are things I always look forward to.
What was your experience working through the financial aid process with the financial aid staff?
Getting my financial aid package was really easy. It was exciting to see all the scholarships and grants that make it possible to pay for college. The sticker price for Hesston may seem big, but wait until you see how much you actually have to pay. The financial aid staff were really helpful and always made sure that I had every document they needed.
What does the "Hesston Experience" mean to you?
The "Hesston Experience" is hard to explain and really can only be understood by living it, but for me it means getting to know a bunch of people who I otherwise wouldn't hang out with.
What surprised you most about Hesston?
The thing that surprised me the most about Hesston was the diversity among the student body. I expected a lot more people like me, but I am very glad that the campus is so diverse. Students come from practically everywhere in the U.S., and there are many international students. Since I speak Spanish, I enjoy speaking with students from Latin America and other Spanish-speaking countries.
What are your plans after Hesston?
After Hesston I plan on attending the University of Kansas (Lawrence) or the University of Oklahoma (Norman) to major in meteorology. I don't like the idea of going to a large university, especially after seeing what Hesston is like, but I want to pursue my career.