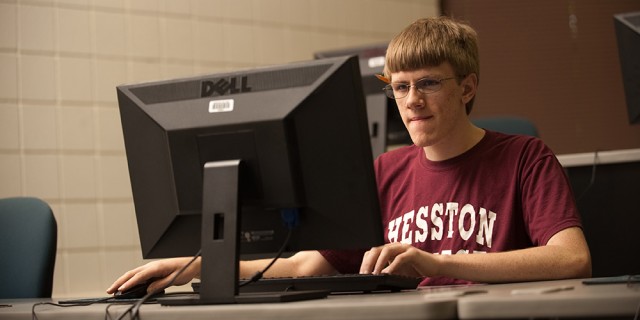 Isaac Tice
Hometown
Salisbury, Pa.
Class Year
2012
Major
Computer Information Technology
Clubs & Activities
How did you choose Hesston College?
My sister came here, and when we moved her out, I just fell in love with the campus. I liked the atmosphere and the freedom.
What are your future goals with your major?
I would like to do programming. I grew up working on computers. My father taught me a little bit of programming, and that sparked my interest.
How are your classes preparing you for your future pursuits?
The professors are encouraging and allow me to go beyond what they assign in class by looking into other applications and expanding on things.
Which people at Hesston have helped you grow the most?
Bob Harder (academic advisor and Computer Science instructor) has helped me to learn more about servers and programming. The professors in the Bible Department have been wonderful and helped me learn more about my faith. Doug Peters and Laura Kraybill in the Theatre Department gave me experience with lighting design, and I have really come to enjoy it. I came to Hesston knowing nothing about lighting design, and this year I have done the lighting for two plays and another show.
What are some of your favorite memories from Hesston?
My favorite memories are from choir tour. I have so many stories from staying with hosts in their homes, and I enjoyed getting to know people and sing in different locations.
How have your experiences at Hesston shaped your future?
Hesston helped me learn how to interact with people, to take the initiative to learn and to better myself.
What does the Hesston Experience mean to you?
For me, the Hesston Experience is knowing your professors and knowing they care about you and your learning very deeply. It's knowing you have a community of friends surrounding you at all times.
What surprised you most about Hesston?
I was surprised by the diversity of backgrounds among the student population. I like living with a lot of different people in the dorms and learning more about the world and life.
What are your plans after Hesston?
I am looking at going to Eastern Mennonite University (Harrisonburg, Va.) and getting a degree in computer science.