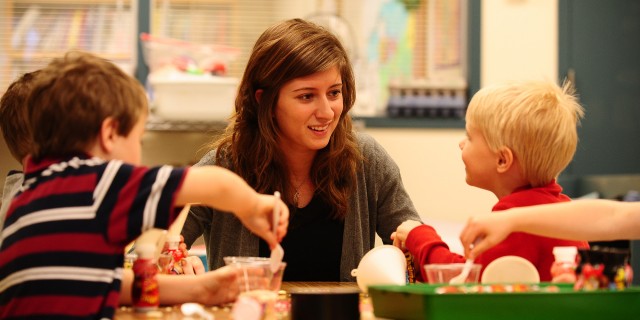 Deb Yoder
Hometown
Apple Creek, Ohio
Class Year
2011
Major
Early Childhood Education
Clubs & Activities
What drew you to Hesston College?
I was drawn to the fact that Hesston College is a two-year school. I was unsure about making a commitment to go to school for four years, so this seemed like a good fit for me. I had also heard about the unique Early Childhood Education program, and I liked the fact that I would get first-hand experience working with children starting in my first semester.
How challenging are the academics at Hesston?
I found that most of the classes at Hesston deepen your ability to think critically. Not only do you learn the book knowledge about a subject, but you also learn the important, real-life issues surrounding it. So much of my own philosophy and theology has been shaped and formed because of how classes like Peacemaking and Justice, Teaching and Learning Strategies, Infants and Toddlers, Spanish and biology have intertwined in ways I never expected. Essentially, what you gain from your classes is highly dependent on your efforts as a student – the more effort you put into your studies, the more you will learn and be challenged.
What was your favorite early childhood education course? Why was it your favorite?
I really loved my field experience course where I was a part of the planning and teaching process and in the lab preschool every day working with the children. I was able to apply what I had learned in my other ECE courses from my first three semesters. I also enjoyed Teaching and Learning Strategies. I learned about the theories and philosophies behind Early Childhood Education, which helped me form my own philosophies and ideas about teaching and child development.
What was your favorite of all the courses you have taken here? Why was it your favorite?
My favorite course overall was probably Peacemaking and Justice. The class encouraged me to face the issue of violence vs. peace, and it helped me to figure out what I believe for myself. At the end of the class we had to be able to argue both sides of the debate, which really helped me to know my own viewpoint and that of the opposing side. This was one of those classes that taught me how to think critically and to try and understand all sides of an issue. I was able to study the life of Jesus, learn how His teachings apply to our current society and what that means for me when I think about my own ethical values.
What are the professors like?
The professors are so helpful, and they care about their students' success. They are always available and willing to help out. I never hesitated to go to them when I needed advice or suggestions. They teach from experience, so they are very knowledgeable.
Did you find opportunities for learning experiences outside the classroom?
I would say that just as much learning takes place outside of the classroom as does in it. My sophomore year I was a resident assistant, and I learned a lot about relating to people and dealing with conflict and confrontation. So much learning can take place through relationships!
When did you first know you wanted to study early childhood education?
I first knew that I wanted to work with young children when I did a year of voluntary service after high school. During that year I served as a teacher's assistant in a non-profit preschool for at-risk children, and it was then that my desire to work with children surfaced. It was such a great opportunity to see how I felt in that particular role and setting. I absolutely loved it!
How have your experiences at Hesston shaped your future?
My experiences at Hesston have broadened my worldview. I was exposed to different lifestyles, traditions, opinions, cultures and new ideas. I gained a broader sense of what the Mennonite church is about, and a broader sense of our global community and how I fit into all of that. Hesston has shaped my future by giving me an even firmer foundation in my faith, and it has opened my mind to the many possibilities that are in store for me.
Have you had experiences here that you don't think you would have gotten at another college?
I think one unique thing about Hesston that other colleges might not have is the close relationships you can have with everyone. I have had the chance to develop deep relationships with other people because of the small student body, the role that professors play and the small community.
How have you experienced faith and spirituality at Hesston?
Through my different classes and discussions with people I have been challenged to know for myself why I believe what I believe. I have gone beyond the simple adaptation of the beliefs of my parents, and I have established my own beliefs for reasons that I truly feel strongly about. Hesston has both challenged and encouraged my spirituality, and it has given me the opportunity to discover it for myself in my own time.
What does the "Hesston Experience" mean to you?
To me, the "Hesston Experience" includes everything that has shaped me during these two years. The things unique to Hesston and the things that I've encountered while at Hesston – the Bible classes, mod life, learning more about my faith background, strengthening my ethics and beliefs, and making friendship connections that go beyond just these two years – are all part of what I consider to be my "Hesston Experience."
What surprised you most about Hesston?
One thing that surprised me about Hesston is that there are a lot of different types of people. Not everyone has a midwestern Mennonite background, but you can make friends who come from various backgrounds. It is really cool to get to know people from all over the U.S. and the world.
What are your plans after Hesston?
After Hesston I am going to look for a job in a preschool or daycare.