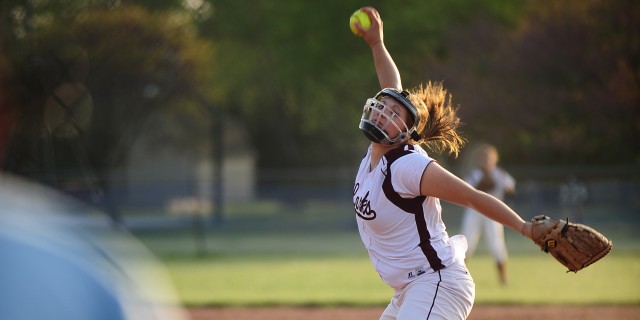 Cynde Postma
Hometown
Dallas, Ore.
Class Year
2012
Major
Clubs & Activities
What drew you to Hesston College?
I initially visited Hesston to see what the softball program was like. When I got here, the atmosphere, students and coach Andy Sharp are what convinced me to come.
How challenging are the academics at Hesston?
The academics are fairly challenging. If you don't apply yourself, chances are you will not do as well as you want. If you do apply yourself and do what your professors ask of you, you will be successful.
What was your favorite social work course? Why was it your favorite?
Marriage and Family with Kevin Wilder was my favorite class. I am a psychology major and I plan on being a social worker, so the overall information that we learned about the family and marriages was really interesting.
What was your favorite of all the courses you have taken here? Why was it your favorite?
World Civilizations with John Sharp has been my favorite class so far. Even though it has nothing to do with my major, John made the course so entertaining.
What are the professors like?
The professors are so supportive. They are quick to help when you need it, and they actually know you on a personal level and care about you as a person, not just as another student. It's something you wouldn't be able to experience at other colleges.
Which people at Hesston have helped you grow the most?
The group of girls I live with in my mod have helped me grow the most. We are all so different, but in the end we are there for one another. Also, Kevin Wilder has helped me grow and shown me how to be more compassionate toward others. He has demonstrated to me how one should live.
Did you find opportunities for learning experiences outside the classroom?
There are a lot of learning experiences outside of the classroom, you just have to go looking for them. I am involved with softball, so with that and class, I stay busy.
When did you first know you wanted to study social work?
My junior year of high school I decided that I wanted to be able to help people as a career, and that is when I started looking into social work and decided it was the career path that I wanted to follow.
How have your experiences at Hesston shaped your future?
Hesston has shaped my future in the fact that it's giving me the opportunities that I need to be able to succeed in the future. I am getting real-life experience here that I wouldn't get anywhere else.
Have you had experiences here that you don't think you would have gotten at another college?
The overall atmosphere and closeness that I feel with my classmates and professors is something I don't think I would have experienced at another college. I hear my friends at other schools talk about how their professors hardly know their names, and I know that is something that I never have to worry about at Hesston. Also, the campus is very supportive of one another and quick to help if someone hits a rough patch.
How have you experienced faith and spirituality at Hesston?
The college, community and my classmates all encourage me to grow spiritually. Since I've been at Hesston I have been able to experience a new level of faith.
What are some of your most memorable moments as a student at Hesston?
Mod Olympics during Opening Weekend was one of my most memorable moments. I came to Hesston terrified that I would have no friends the first week of school, but by the end of the first weekend I already had some great friends.
What does the "Hesston Experience" mean to you?
To me, the Hesston Experience means you're pushed to succeed, and it ultimately helps you find yourself and discover what you want to do and what God wants you to do.
What is dorm life like at Hesston?
Dorm life is awesome here. There is always something going on. We live in mods and the girls that I live with have become my family. I have a lot of memories with them.
What surprised you most about Hesston?
I did not really know what to expect when I came to Hesston. The kindness of other students and their willingness to take in and get to know new people is what surprised me the most. People actually wanted to get to know me, which was something I had not really expected and I really liked.
What are your plans after Hesston?
After Hesston I would like to either go to the east coast or stay here in the midwest. I grew up on the west coast and I'm enjoying seeing the other regions of the United States. If I choose to continue playing softball, that will impact where I go as well.