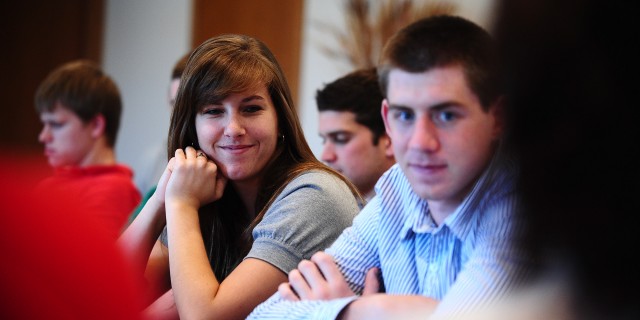 Collette Weaver
Hometown
Goshen, Ind.
Class Year
2010
Major
Clubs & Activities
What drew you to Hesston College?
I attended Bethany Christian School and Yellow Creek Mennonite in Goshen, Ind., which is how Hesston College was introduced to me. Both of those communities provided me with the opportunity to learn more about Hesston through people who had attended the college. When I came to visit I saw the difference between the other colleges I had been visiting and it was the interaction between the students and faculty, the small community, and the fact that it was a two-year school. Coming from a smaller high school that emphasized student and faculty interactions, I was very excited when I noticed Hesston College had the same values. As I thought more about what I wanted to major in college, I found myself not wanting to attend college all four years and just receive my associate degree. That is what also drew me to Hesston College. I could attend for two years and receive my A.A.A.S. in business, which is what I am currently graduating with. Being a two-year college would make it easier to be done with one adventure in my life and then allowing me to move onto another adventure in the work force or in service. Hesston College would be the place I would grow emotionally, academically and most importantly spiritually.
How challenging are the academics at Hesston?
It's not just the academics that challenge you, but the experiences outside of the classroom that challenge you and allow you to grow. The professors genuinely care about how you are doing not only in their classes, but in other classes as well. They push you to become the best you can be academically and as a young adult. You learn more than you would at another college because you have those one-on-one interaction with your professors.
What is your favorite business course? Why is it your favorite?
I am torn between two classes that I have taken, which are Business Communications taught by David LeVan and Desktop Publication taught by Vickie Andres. Business Communications was the most challenging class that I took at Hesston College. The professor pushed the class academically, because he knew we were capable of achieving his high standards. We had to write a business proposal, cover letters, denial letters, reference letters and more. He emphasized some key ideas and techniques that can make us the best or worst future employee. In this class I could see exactly how each paper and project applied to what I was going to be doing in my future job. The other class, Desktop Publication, is where I found out how much I loved laying out designs and making them my own. This class we designed menus, business flyers, newsletters and more publications that were used for actual businesses. This is something that I want to pursue deeper in the future. Without this class I would have never known how much I loved or how good I was at this aspect in business.
What is your favorite of all of the courses you have taken here? Why is it your favorite?
My favorite class was Human Thought and Belief taught by Tony Brown and Joel Kauffman. This class was one of my favorites because it was all discussion and you were able to see how other people view major subjects like life, marriage, death and others. Being able to listen to other people's views has helped me reshape or strengthen my own beliefs. This class wasn't necessarily the most academically challenging class, but it was the most emotionally and spiritually challenging class I have taken at Hesston College. This is one of the reasons why I appreciated and respected this class, because of its focus on exploring a variety of other people's opinions.
What are the professors like in the business program?
The professors in my field genuinely care about me as a person. They don't see my student id number or my letter grade, but they see the person God created and will use in many ways. They are easily approachable, warm, inviting, and you are able to talk about anything with them. They want you to succeed not only in college, but also in the real world. The more you get to know your professors, the better experience you will have at college and that is something that I have learned in the past two years.
Which people at Hesston have helped you grow the most?
Bill Mason is a great man that helped me find out what my strengths were as an individual and as a woman in business. He kept pushing me to strengthen my networking base and become more aware of what was happening in the world of business. He is always able to talk with me whenever I need to ask him questions. This relationship has been a great way for me to learn from a man who has been involved in some great ideas throughout his years. I have found some great friends in my two years at Hesston, friends who have the same values and we get along great together. We don't all have the same interests, but that allows each of us to experience something new. Having those relationships throughout the years has helped me learn more about myself and has helped me through some difficult times.
Did you find opportunities for learning experiences outside the classroom?
Being 12 to 14 hours from home, you learn a lot more about yourself than if your college was in your backyard. I became more independent and able to solve the little things that my parents used to do for me. This may also be a result of being a Student Ambassador my freshman year and a Resident Assistant my sophomore year. I wasn't thrilled that I was attending a college so far from home, but as a result it gave me the experiences to have confidence in the person I am today.
When did you first know you wanted to study business?
My parents have owned a business for about 12 years resulting in my interest towards business. I thought about a couple other fields that I had interest in, but I would not have had as much flexibility in job choices that I would with business. I knew that if I wanted to possibly open my own business it would be easier to have a background in business and then open a company that focused on one of my hobbies or an interest of mine. Business has so many directions if could focus on from accounting, marketing, administrative and more. I knew business was the right degree for me when I found myself analyzing other companies, picking apart commercials and looking at how a business set up their store.
How have your experiences at Hesston shaped you as a future business woman?
Being at a smaller two-year college has allowed me to get a lot more experience in the classroom and have more one-on-one interaction with my professors. If I was not able to have those one-on-one interactions with my professors, I would not have learned as much as I would have if I just had the classroom interactions. The professors are there to help you prepare for the future in your field. An example of this is when I was talking to Bill Mason about not knowing where to begin to look for a job; he said he would put in a few good words for me at a business where he has connections. The college is there to help you with succeeding not only in your future career, but to help you grow emotionally and spiritually.
What are some of your most memorable moments as a student at Hesston?
My most memorable moments would be the everyday interactions in the dorms. You get to learn so much about the people who live around you, because you are with them every day. You learn about where they come from and what their hometown is like, because not everyone is from Kansas. All of the late night talks, setting up a tent in the mod lounge, the overflowing trash, and the giggling are what I will remember the most about Hesston College. It is amazing how much you connect with people within two years and those friendships will last a lifetime.
What are your plans for after Hesston?
I will be taking some time off to find out what I would like to focus on in business. During that time I would like to work for a company that has the same values as I do and provides a lot of experience for me. If I am not able to find a job, I have been thinking more about service in Turkey where I have some connections. After a year of working or service I may continue my schooling.