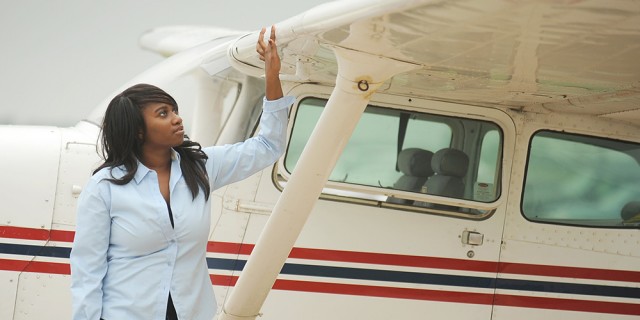 CeeCee Wingo
Hometown
Choctaw, Okla.
Class Year
2013
Major
Clubs & Activities
How did you choose Hesston College?
I have known I wanted to be an air traffic controller since about seventh grade. I looked on the FAA website for schools that offered air traffic control and found Hesston. When I came to visit, I liked the people, the environment and the small campus. In a way, I feel like Hesston chose me.
What do you like about air traffic control?
I have always been interested in aviation, but never really wanted to fly, so air traffic control is a way to still be involved in the aviation field. I think it's cool because a lot of people don't know what all goes on behind the scenes with air traffic control. I also enjoy the challenges that the field gives. As part of the program, I will get my private pilot's license. I like being able to say I know how to fly because it's not something just anyone can do. Learning to fly was a little nerve-wracking at first – kind of like driving – but once you get the hang of it, it gets easier.
What are your future goals with your major?
In Air Traffic Control II class we started talking about meteorology being related to air traffic control. I would like to get my bachelor's degree in meteorology, and of course work as an air traffic controller someday.
What is your favorite course in your major?
I have enjoyed Air Traffic Control II the most so far. We are learning about meteorology and emergency issues, which are exciting.
What are the professors like?
The professors all across campus are really nice, open and available. If I ever have a problem, I can just drop by their office. I like that they take an interest in their students' school life and personal life. Two of my professors – Dan Miller (Director of Aviation) and Bob Harder (flight instructor) – went down to Oklahoma City to visit the FAA and they had dinner with my parents while they were there. I thought it was really cool that they thought of my parents like that.
Which people at Hesston have helped you grow the most?
The friends I have made here are very important to me. I came here by myself, not knowing anyone. It was tough at first, but the people around me have helped me grow to be a stronger person. I love that there are people from all over the world. Many of my friends are international students. I enjoy spending time with them and learning about their lives and countries.
What are some of your favorite memories from Hesston?
I got to be involved with International Festival and performed a dance from Ethiopia with some of my Ethiopian friends. I loved learning something new, wearing their traditional clothing and just being a part of it.
Did you find opportunities for learning outside of the classroom?
Bob Harder has been teaching me about HAM radio this year. I have done two HAM radio contests where we talk to people across the country and exchange information to earn points. The last contest, we got second place. My experience with HAM radio will help me with my career because I will get more used to talking on the radio.
How have your experiences at Hesston shaped your future?
I think that starting at Hesston, on this small campus, has helped me to get to know myself more – to know my study skills and what to expect in professional settings. I think it is a great place to figure out who I am, which will help me wherever I go.
What does the Hesston Experience mean to you?
To me, the Hesston Experience is about getting involved. First Year Experience seminar especially helped me get out and do things like meet new people, do community service.
What surprised you most about Hesston?
I was most surprised by how nice everyone is. I was not used to that. I went to a high school where you talk to your friends and that's about it. I like that I can sit wherever I want in the dining hall and have a great conversation with whoever is there.