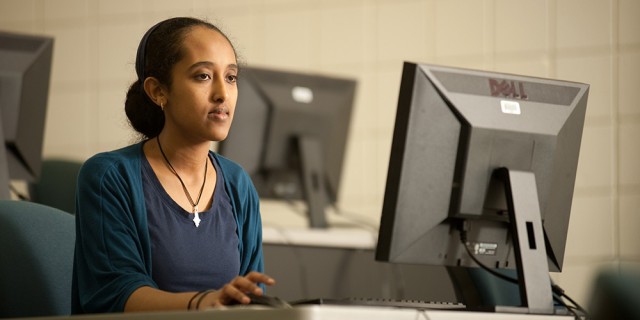 Asbel Assefa
Hometown
Addis Ababa, Ethiopia
Class Year
2013
Major
Computer Information Technology
Clubs & Activities
How did you choose Hesston College?
I wanted to study in the United States and was looking for scholarships. In Ethiopia, universities are very expensive, class sizes are larger and many degrees that are earned there are not accepted in the U.S. because of the lower quality of education. I found Hesston College when I was looking on the Internet. It had my major, which was important.
What do you enjoy most about your major?
I really like the creativity it requires. I get to actually be involved in the creation of something with programming and website design. It's practical, hands on and all about solving problems, which I enjoy.
What are your future goals with your major?
I want to finish my four-year degree somewhere and then work as a software engineer. Programming is my favorite aspect of the field and what I really want to do. I have big dreams – maybe if I work hard I will get there.
How are your classes preparing you for your future pursuits?
Hesston is giving me the things I need to transfer. I am getting a good balance of classes in my major and general courses that will give me a well-rounded education.
What is your favorite course you have taken so far?
I enjoyed both Progamming I and Network Administration. In Network Administration we are getting the computer lab set up for next year by updating all the computer software. I enjoy learning from Bob (Harder – academic advisor and instructor) and the students who have had more instruction and experience. It makes it fun and interesting to learn as I go along by actually doing updates and other programming and setup.
What are the professors like?
All of my professors are very helpful and attentive to their students' needs. I feel comfortable asking them questions. They are even available outside of class, which I think is one of the best things about Hesston.
Which people at Hesston have helped you grow the most?
Dave Osborne, the international student advisor, is there for us for any issue that might come up. We can always go to him for anything. Also, my RA (Resident Assistant) and my friends have helped me adapt to a new environment and ways of life in the U.S.
What are some of your favorite memories from Hesston?
I went on a spring break trip to Georgia with a group of other students to spend the week volunteering with Alterna.* Alterna is outside of an immigrant detention center and has a house, El Refugio, for families to stay when they come visit loved ones at the center. We spent the week painting the house and learning about the immigration justice system.
Did you find opportunities for learning outside of the classroom?
I am a member of the African Student Union, and we have had several learning opportunities throughout the year. We helped organize the Ethiopia Reads packaging event to package books to be sent to schools in Ethiopia where books are not available. We also served at a fund raiser to raise money to help with the shipping costs for the books. We participated in chapels during Martin Luther King Jr. Week, and we have taken fun day trips, like to Kansas City where we visited the Negro Leagues Baseball Museum and hall of fame.
How have your experiences at Hesston shaped your future?
The professors are able to see in us what we don't see in ourselves. They encourage us to try hard and participate. I feel like I am getting out there and doing things that are giving me practical knowledge for my future.
What does the Hesston Experience mean to you?
To me, the Hesston Experience is community. It's easy to connect with people here because of the small and close community. I enjoy getting to know other people.
What advice would you give other international students considering Hesston?
Hesston College makes the transition to the United States easy because the people are so welcoming. You don't have to worry about feeling overwhelmed by a large population – it's safe and comfortable. People are willing to help you however they can.
*Alterna is a missional community of U.S. citizens and Latin American immigrants in LaGrange, Ga., which emphasizes hospitality to strangers and those in need, reconciliation for broken relationships, environmental stewardship and simple living.