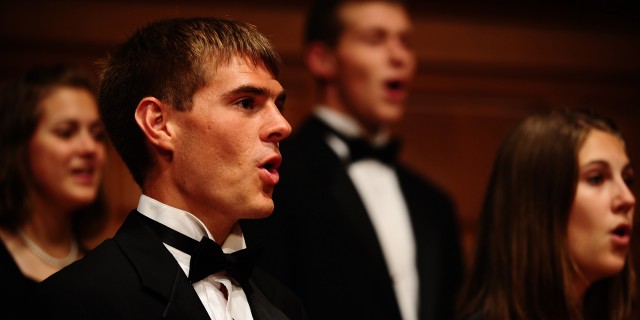 Andy Miller
Hometown
Marion, S.D.
Class Year
2011
Clubs & Activities
Bel Canto Singers, Concert Band, Soccer
What drew you to Hesston College?
Both of my parents and my sister came to Hesston, so I heard a lot about Hesston through family. My visits were great, and I loved the community atmosphere.
How challenging are the academics at Hesston?
Some classes took a lot of effort, but I learned so much from every class regardless of the difficulty.
What was your favorite course in your department? Why was it your favorite?
I'm studying music education, so my favorite class was conducting. It was a small class so the professor could work one-on-one with us. We got to practice conducting and do other hands-on work, which made the class stimulating and very enjoyable.
What was your favorite of all the courses you took? Why was it your favorite?
My favorite class overall was either Biblical Literature or Peacemaking & Justice. Most people would say that these are the toughest classes Hesston offers, and I agree with them. However, by the end of the class, I learned so much more about God, the church, and especially myself, and I am more confident in my relationship with God.
What were the professors like?
My professors were excellent in preparing me for the future. They were very supportive and helped me stay positive. I was continually pushed to work harder because they not only encouraged me, they also knew what they're talking about.
Which people at Hesston have helped you grow the most?
My music professor and choir director Bradley Kauffman helped me grow the most. Coming into college, I was pretty sure that I wanted to study music so I took as many music classes as I could. One day, Bradley told me that I have great potential for being a music teacher. I took that to heart, and I have him to thank for helping me be successful in my field of study.
Did you find opportunities for learning experiences outside the classroom?
I was involved with a lot of different activities outside of the classroom. I was a part of Bel Canto, the men's soccer team and the table tennis club. I also participated in other activities like Monday night hymn sing, ultimate Frisbee, sand volleyball, chapel worship team and campus worship.
How have your experiences at Hesston shaped your future?
The best way to answer this is with Hesston's motto – "Start here, go everywhere." Hesston has been the first step and a very important step in preparing me for the future.
Have you had experiences here that you don't think you would have gotten at another college?
I don't think I would have experienced community in the same way at another college. Hesston has a unique dorm setup with mods, so getting to know people through mod activities and other events builds community quickly.
How have you experienced faith and spirituality at Hesston?
The Bible classes I took impacted the way I think and act. I grew up in a small, Mennonite community, so some things about the community were familiar to me. However, I learned a lot more about Christianity, Mennonites and other religions.
What are some of your most memorable moments as a student at Hesston?
Bel Canto makes up most of my most memorable moments. We had a rigorous practice schedule and went on a few tours throughout the year, and we always had a lot of fun being together and singing for people.
What does the "Hesston Experience" mean to you?
Some students would say that the "Hesston Experience" involves a Druber's run or eating cheese fries at Newell's. However, to me, it means growing in a Christ-centered community.
What surprised you most about Hesston?
I was surprised at how many religions and backgrounds are represented. I think it's great that we have students from all over the country and world. Everyone brings a different perspective and we have the opportunity to learn from each other.
What are your plans after Hesston?
I am transferring to Bethel College in North Newton, Kan., where I will major in music education.