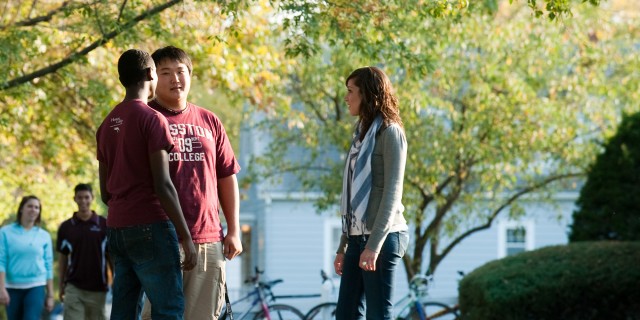 Andrew Penner
Hometown
Fresno, Calif.
Class Year
2012
Major
Clubs & Activities
What drew you to Hesston College?
I go to a Mennonite church so I always knew about the Mennonite schools, but what really brought me to Hesston was my youth pastor, Marc Schlegel. He attended Hesston before he became a youth pastor and he only had good things to say about it. I visited for two days as a prospective student and I loved it.
What was your favorite course in your department? Why was it your favorite?
I am a Disaster Management major, so I really liked Mennonite Disaster Service Culture I. I learned a lot about the history of Mennonite Disaster Service and why they do disaster recovery work.
What was your favorite of all the courses you have taken? Why was it your favorite?
I really liked Biblical Literature. Even though it is one of the hardest classes, I enjoyed learning more about the Bible. Before I took the class I did not really understand what sermons were about or the meaning of scripture, but after taking the class I understand more and can connect more to sermons and church.
What are the professors like?
What I really like about the professors at Hesston College is that we run on a first-name basis. Professors are all willing to help if you have a problem.
Which people at Hesston have helped you grow the most?
I feel like I know the whole campus, and everyone has affected me in some way. I love meeting new people and the people here are so friendly. It was an incredibly easy transition to a new place.
Did you find opportunities for learning experiences outside the classroom?
We do a lot of hands-on work outside of class for the Disaster Management Program. On the weekends, we go repair roofs or paint for local people.
When did you first know you wanted to study disaster management?
I knew I wanted a major where I could help other people. I wanted to do something that gives back to the world, and Disaster Management and rebuilding homes for disaster survivors was the best choice.
How have your experiences at Hesston shaped your future?
Even after being here for only one year, I think my personality has evolved. I feel like I can relate to people more.
Have you had experiences here that you don't think you would have gotten at another college?
If I would have gone to a bigger college, like a state school, I do not think I would have as many close relationships with people, and I couldn't be as relational as I want to be.
What are some of your most memorable moments as a student at Hesston?
Dorm life has been the most memorable experience for me. The people in the dorms, which we call mods, become family. The guys in my mod are who I hang out with regularly and who I talk to about things. They have become my closest friends.
What does the "Hesston Experience" mean to you?
The Hesston Experience means making lifelong friends, getting a great education and having fun!
What surprised you most about Hesston?
I heard that the campus was friendly, but I was surprised at just how friendly it was.
What are your plans after Hesston?
I am thinking about transferring to either Goshen (Ind.) College or Eastern Mennonite University (Harrisonburg, Va.).