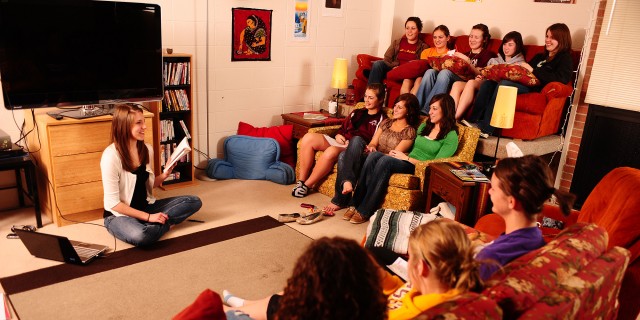 Andrea Pankratz
Hometown
Buhler, Kan.
Class Year
2011
Clubs & Activities
What drew you to Hesston College?
Initially it was the nursing program that attracted me, but once I visited, the people and beautiful campus kept my interest.
How challenging are the academics at Hesston?
Most of my classes really pushed me. The most challenging part of classes isn't necessarily always the content but learning time management for homework and other demands.
What was your favorite of all the courses you took? Why was it your favorite?
The courses I enjoyed the most were art/design related but my favorite was Desktop Publishing with Vickie Andres. This class explored my passion. We had the opportunity to design menus and brochures for local businesses. We also worked in Photoshop, redesigning pictures, for which I really have a knack!
What were the professors like?
All of the professors I experienced were what Hesston College says its professors are. Their ultimate passion is to help students excel, and they do whatever it takes to make that happen. They are not only concerned about your school life, but also with your personal life as well. I have formed close relationships with most of my professors.
Which people at Hesston helped you grow the most?
The girls in my mod and on my floor encouraged me in all areas of my life. As a Ministry Assistant, I was constantly challenged in my faith and held accountable by these girls. Whenever I was faced with a situation, I could trust any of them to have logical advice. We all became close throughout the school year by living with each other and participating in activities and class together. These girls made my experience at Hesston College so worthwhile. I would never trade my friendships with them!
Did you find opportunities for learning experiences outside the classroom?
I participated in intramurals, which helped form bonds with people I wouldn't normally get to know. I was also a Ministry Assistant my sophomore year. I led Bible studies once a week and had a "parish" of girls on my floor with whom I interacted regularly. My Ministry Assistant position was probably the most beneficial thing from Hesston College for me. Meeting with the girls once a week was a highlight. We laughed, shared stories and became good friends.
When did you first know you wanted to study communications?
Actually, it took me until March of my sophomore year at Hesston to finally figure out what I wanted to do. I had been doing numerous presentations about Hesston College and had gotten many compliments on my work. I started to think about majoring in communications, and after much positive feedback and participating in activities in this area, I decided communications is what I enjoy.
How did your experiences at Hesston shape your future?
As a student at Hesston College I was able to explore all the possibilities for majors. I took a variety of courses to help me discover my interests. I also made great connections on and off campus for future jobs.
Did you have experiences here that you don't think you would have had at another college?
The closeness of the people here is something that I don't think I could get somewhere else. Everyone is a part of a mod, so right from the start I became close with the girls in my mod and on my floor. It was also easy to make friends. I shared a friendship with each of my classmates because we were bonded by the same experience, even though we weren't necessarily close friends. I also loved knowing everyone by name, and how the community gets involved on campus as well. Even though I was outgoing before attending Hesston, I have found that I am much more comfortable getting to know people now.
How have you experienced faith and spirituality at Hesston?
I have grown in my faith while at Hesston College. It was during this time that I came to understand what I believe and where I have come from. Being at a school that has 11 other countries represented and where many of the students were not Mennonite like I am, stretched me in my faith.
What are some of your most memorable moments as a student at Hesston?
Most of my memories are centered around dorm life and time spent with friends – Sonic Happy Hour runs, watching movies, girls night to Wichita and painting nails were some of our favorite activities. I had the privilege of meeting some amazing girls and finding life-long friends.
What does the "Hesston Experience" mean to you?
The Hesston Experience is the growth I experienced spiritually, intellectually, and socially. Hesston College is very challenging academically, and I was stretched in most of my classes. I was able to get out of my "Mennonite bubble," have discussions with people from other backgrounds and solidify my faith.
What surprised you most about Hesston?
When I first visited, everyone knew that I was a visitor. I couldn't comprehend how everyone could know each other, but once I got here, I understood!
What are your plans after Hesston?
I am going to Tabor College in Hillsboro, Kan., where I will major in communications with a minor in integrated marketing.