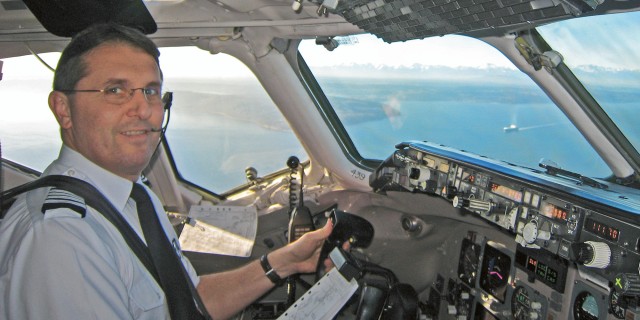 Roger Yoder
Hometown
Goshen, Ind.
Class Year
1979
What are your favorite memories from your Hesston years?
I have always been a social person so Hesston was the right place for me. I remember late night basketball games in Hess Hall with guys from the dorm, eating French fries and drinking the worst coffee you can imagine with Byron Peachey at Leo's in Newton, and of course launching water balloons from third floor Green Gables.
What was your favorite course at Hesston?
My favorite course was probably Private Flying. Since I was 8, I had waited to fly an airplane. I was so excited for that first lesson! Mike Dalke was my instructor and I very much appreciated his laid back approach.
Who were your favorite professors or instructors?
My aviation instructors were probably my favorite because they were teaching me things I really wanted to know. I had no profs that I didn't like. It would be difficult to pick one at the risk of leaving someone out.
How did learning to fly fit with the rest of your Hesston education?
I learned aviation from my major but I learned about being a Christian and a good employee from my other classes. I may not have been as into them as I was my aviation but they were just as valuable if not more so in terms of my life skills.
Where did you go and what did you do do after graduation?
After Hesston, I was a flight instructor for six months at H.C. then moved to Goshen, Indiana, were I instructed for two more years. I then flew charter for a few months. One of our charter customers bought an airplane and I got the job flying for them. I went to Coachmen Industries two years later and flew a Cessna Citation business Jet for three years before going to American in November of 1986. I have been there 20 years now and am a Captain on the MD-80.
Do you have any advice for students considering aviation at Hesston?
For a new student, aviation is still a very rewarding career. Make sure you learn to fly because you really love to fly. In spite of all that has happened over the past few years, I still love my job and flying airplanes in general.