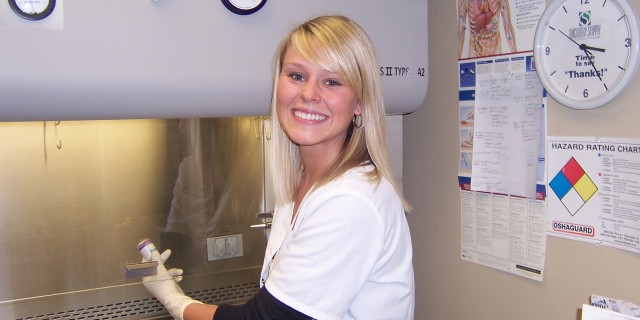 Lauren (Janzen) Eberspacher
Hometown
Olathe, Kan.
Class Year
2007
Major
How did you choose Hesston College?
My Hesston Experience is one that I will never forget. I found out about Hesston through a college fair here in Kansas City. During my weekend visit, I immediately knew that Hesston was going to be my choice – everything from visiting nursing classes to hanging out in the mods with a bunch of girls was exactly what I was looking for.
Tell me about two or three key memories from your Hesston College years.
I think that my favorite memories at Hesston were simply the friendships that I made. The relationships that you build here last a lifetime. Hesston really gives you the environment and the opportunity to meet new people. Druber's runs with the girls late at night was always a favorite memory as well – nothing like peanut butter donuts!
What was your favorite course at Hesston?
My favorite course I took at Hesston was Nursing IV. Nursing IV has something called "Integration Seminar" which no other nursing program that I have ever heard of has. The professors take the last few weeks to review everything that we learned over the past two years and "integrate" it together. That was by far the most important part of nursing for me – it really prepared me to take my state boards. The professors do such an excellent job of teaching this class.
Who was your favorite prof?
All of my nursing profs were amazing! I would have to say that Sondra Leatherman impacted me the most. Her influence went outside of the classroom and really helped shape me as a person. She not only guided me mentally, but spiritually as well. I hold such a close place for her in my heart.
How did your Hesston education shape you as a person?
The nursing profs were excellent at pinpointing our specific interests. Mine happened to be oncology. My clinical instructors made sure that I had rotations in different oncology clinics, took care of cancer patients, etc. This solidified my passion for cancer care and I currently work in an Onology/Hematology office here in Kansas City.
Is there a relationship in your Hesston years that launched you–helped you to become the person you are today?
I was paired with my best friend, Angela Stauffer, my first year at Hesston as roommates. We hit it off right from the start. The Hesston staff pairs you with a roommate based on numerous dimensions of who you are, what you like, etc. We were matched perfectly! We are still best friends to this day, even though we live so far apart. I would have to say that I also met my fiance´ at Hesston as well – Eric Eberspacher.
Where did you go/What have you done since graduating from Hesston?
I came back to Kansas City and worked for a year on an Oncology floor at Olathe Medical Center after graduating from Hesston.
What do you do now?
I work at the Olathe Cancer Care Center in Olathe, Kan. I'm a registered oncology nurse. Our office is a doctor's office and we treat about 20-35 patients daily with chemotherapy. I absolutely love my job!
What would you say to someone considering studying nursing at Hesston?
Make sure that you come and visit! Hesston's nursing program is so diverse and deep – it really takes a visit to be able to see all that they have to offer.
Is there anything else you would like to share about Hesston?
What a great place! Hesston not only prepared me for my work-based life, but it prepared me to go out and share my faith. I have nothing but positive things to say!