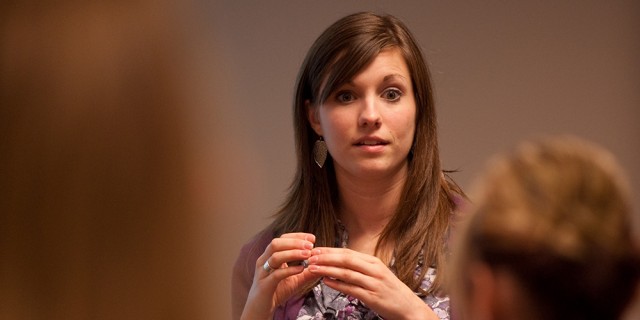 Kelsey Shue
Hometown
Kidron, Ohio
Class Year
2008
Clubs & Activities
Resident assistant, Bel Canto Singers
Where did you go and what did you do after graduating from Hesston?
I went to Paraguay for a year with Mennonite Central Committee to help prepare for Mennonite World Conference, where I worked with registration. It was good to take a break from school and learn more about myself and the broader Mennonite church.

I then went to Goshen (Ind.) College and earned my bachelor's degree in communication with a minor in Spanish. Hesston was a good starting point for me and Goshen was a good fit and good way to continue what I had learned at Hesston and in Paraguay.

After graduating from Goshen I wanted to explore the world outside of the Mennonite church. I had been completely immersed in the Mennonite church my whole life – attending Central Christian High School (Kidron, Ohio), Hesston, Goshen and working for MCC. I also wanted to be in the non-profit realm. I interned for the summer in the Advocacy Department for World Vision with Federal Way outside of Seattle.

I have worked for Mennonite Mission Network in Elkhart, Ind., recruiting young adults for the different volunteer service programs since the end of August 2011.
Which Hesston classes and professors prepared you for the experiences you've had?
Speech with Kendra Burkey helped develop my public speaking skills. In Paraguay, I was the only person in the department who had been to Mennonite World Conference before so I was asked to share my experiences with the group. I now use those public speaking skills to recruit and speak in chapels and classes.

Maria Day's Spanish classes gave me a really good base in Spanish for using Spanish conversationally in Paraguay. I also helped start a lunch group for students enrolled in Spanish. We would try to meet weekly for lunch and speak only in Spanish with the help of a student from Colombia. Looking back, I realize that that time not only benefitted us by learning Spanish but was also a great way to create community for international students. I learned in Paraguay that being an international student can sometimes be a lonely time.
What are some of your favorite memories from Hesston?
Some of my favorite memories happened sitting around tables at Druber's, Newell's or in the Larks Nest. We would play cards and talk and joke around for hours.
What would you say to a high school student who is considering Hesston?
At any other college you have four years with the same people, but starting at Hesston broadens your network. I love that I have friends from Hesston and Goshen and from Paraguay. It's great to have a broad network of people you can relate to and trust.

Hesston also has great classes like Biblical Literature and Faith and Discipleship that help with faith development and give you an awesome base for your beliefs. I still use those classes as reference points.
What does the Hesston Experience mean to you?
The Hesston Experience is the relationships you build. Hesston's location and the fact that so many students come from long distances means people stay on campus during the weekends and you get to know people. If you are on a campus where everyone leaves on the weekends, you're still isolated.
What are your career goals?
I don't know what my ultimate career goals are. I am just taking opportunities as they come. I am trying to be in tune with where God is calling me, figuring out what my gifts are and where the world's needs lie, and being where those things intersect.