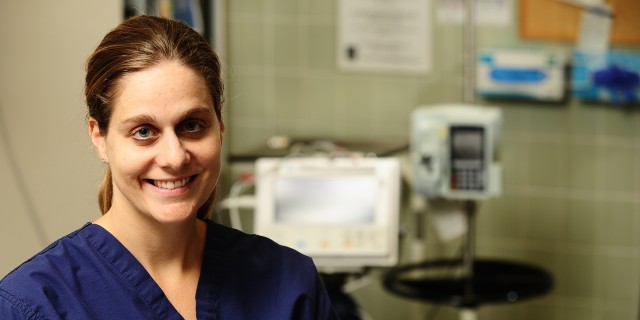 Janelle (Yutzie) Blubaugh
Hometown
Wellington, Kan.
Class Year
1997
Major
Clubs & Activities
General surgeon at Sumner Regional Medical Center
What was your education after Hesston?
I got my B.S. from Friend's University in Wichita, Kan., attended medical school at the University of Kansas in Kansas City, Mo., and did my general surgery residency through the University of Kansas in Wichita.
Tell us about your current work.
I have been practicing General Surgery in Wellington since September 2008, providing a broad range of general surgery services to the community and surrounding area.
What are your biggest career accomplishments?
Getting A's from Jim (Yoder) and Hugo (Boschmann)! I'm only kind of kidding, their classes were hard! Any time a patient or their family thanks me and is pleased with their care, I feel like I have been part of accomplishing something important.
What activities did you participate in as a Hesston College student?
I played tennis and basketball, and was a member of the '97 basketball team that went to the national tournament in Hagerstown, Md. I was also an RA my sophomore year.
How did Hesston help determine the path your life and career choices would take?
My experience at Hesston shaped the course of my life in many ways. The courses I took were difficult, and I was well prepared for my classes during my bachelor's program and in medical school. I learned the value of understanding information instead of memorizing under the direction of Jim Yoder and Hugo Boschmann. This was an invaluable lesson that provided me with the ability to be successful in academics, my career and my life in general. The most important thing I learned from them is that despite pressures from the outside world, I can be a Christian and a scientist. I don't have to be one or the other.
The feeling of community I experienced while at Hesston played a part in my decision to practice medicine in a small town. I learned to truly value relationships, the importance of caring for those around me under every circumstance, and treating people with respect.