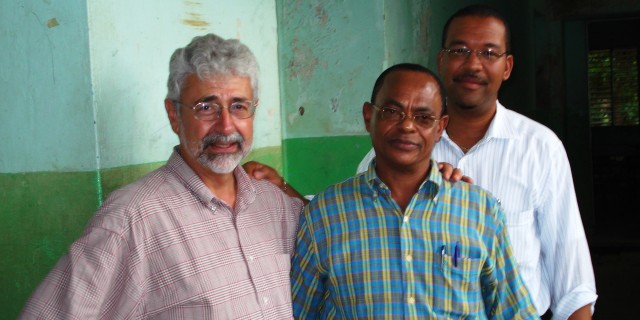 Glenn Smucker
Hometown
Milwaukee, Wis.
Class Year
Ac 1964, 1966
Major
What was your education after Hesston College?
B.A. in sociology from Goshen (Ind.) College, M.A and Ph.D. in cultural anthropology from The New School for Social Research (New York City)
Tell us about your career.
I was a community development assistant in Haiti for two years of voluntary service with Mennonite Central Committee. I then worked as a social worker in Chicago.
After two years in Haiti doing fieldwork for my dissertation, I undertook consulting assignments with the U.S. foreign assistance program in Haiti. I then served as country director for a farm forestry program serving thousands of Haitian farmers, and later directed a U.S.-funded natural resource management project in Rwanda.
In 1987 I started Smucker Consulting in Milwaukee. I have worked short-term assignments in Rwanda, the Dominican Republic, Jamaica, Belize, Trinidad, Tobago, and Guyana, but mostly in Haiti, including recent efforts to protect biodiversity in remote mountainous areas and evaluate environmental risk in Haiti's watersheds. I have also studied and devised programs to combat child trafficking and gang violence.
How did Hesston help determine the path your life and career would take?
Hesston promoted a professional life devoted to serving people along with creative self-expression. Hesston also provided opportunities to explore leadership roles, mentoring, and how to work effectively with a team.
What are your biggest career accomplishments?
The positive influence I have had on public policy, including shifting large amounts of public resources to serve the poor while protecting the environment.
Significant attention and funding in response to my research on human rights violations.
Working on behalf of the poor and disenfranchised from whom I learned profound lessons and for whom I have tried to make a difference.
Which Hesston College instructors had the biggest impact on you?
I have fond memories of Melva Kauffman's thoughtful exploration of one's expectations of life versus the process of realization. Paton Yoder taught me how to write clearly and simply about difficult topics. Clayton Beyler taught me a sense of the social and cultural context of Old Testament writings, and thereby stimulated my interest in cultural anthropology. Lowell Byler taught me discipline in the creative process and a subtle sense of musical interpretation.