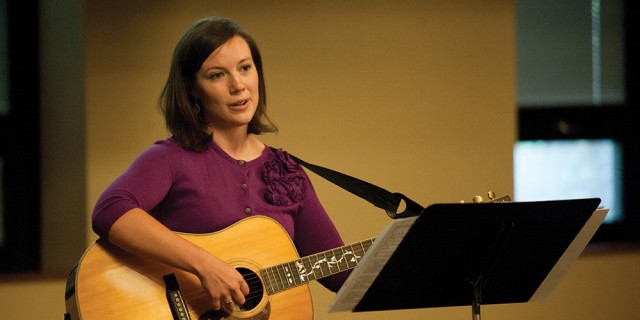 Beth (Kaufman) Eriksen
Hometown
Winchester, Va.
Class Year
2006
Major
Clubs & Activities
Bel Canto Singers, theatre productions
Tell us about your career.
I am a music therapist at Blue Ridge Hospice in Winchester, Va. I earned my bachelor's degree from Indiana University-Purdue University in Fort Wayne, then did a six month internship at Blue Ridge Hospice before accepting a full-time job there. I focus on helping my patients feel more comfortable since end-stage illnesses are often painful or debilitating. I use patient-preferred music to create a peaceful and relaxing environment and to help them find meaningful ways to connect with family. My job is so rewarding because I get to use music to bring comfort to patients and families.
How were you involved with music at Hesston?
There were many ways for me to be involved at Hesston right from the start. I was able to build up a variety of music experiences that influenced my decision to use the healing powers of music. I was a soprano for Bel Canto Singers for both years, performed the role of Aysha, one of Noah's daughter-in-laws, in the musical Children of Eden and Katie Brubacher in Quiet in the Land and played flute in the Bethel College (North Newton, Kan.) orchestra (before the advent of the Hesston College Concert Band).
What Hesston College instructors influenced you?
My voice instructor, Matt Schloneger, pushed me to always improve, and through his encouragement I was able to participate in Canta in Italia, an opera program based in Florence, Italy.
What is rewarding about your career?
One patient in particular left a lasting impression on me. She loved music and had a large collection of sheet music and instruments in her home. Her last request was to put together a Christmas concert for her family, friends and the hospice staff. We spent hours rehearsing until she felt it was ready. I'll never forget the joy the process of preparing and the performance brought to her.