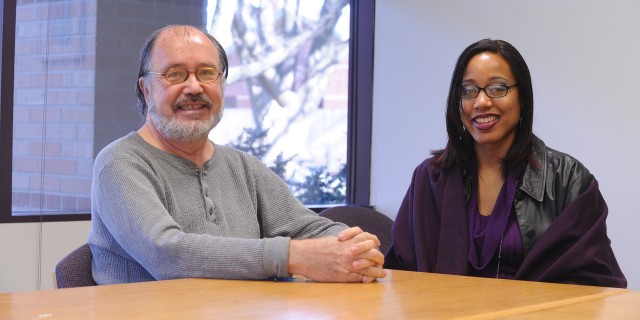 Alison Franks
Hometown
St. Louis, Mo.
Class Year
1999
Majors
What are your favorite memories from your Hesston years?
I was amazed that I was the female chosen to speak for the sophomore class at commencement. I was honored, nervous but God graced me with the words to say. I was so unworthy! I loved Ms. Stuckey's food in the cafeteria. I used to ask her daughter Rachel, "what was momma stooks be cooking today."
What was your favorite course?
My favorite course was nutrition. I always loved to learn about my health and how the body works.
Who were your favorite professors?
Dwight Roth in the social sciences and Spanish prof Maria Day. They were my favorite because of the style and flavor they brought to the classroom. They were very different but their own person.
How did your Hesston education shape you as a person?
My Hesston education shaped me to love cross culturally, embrace difference, respect differences; it instilled missions and service in me and gave me a deeper understanding of missions and service as well.
Was there a relationship in your Hesston years that launched you—helped you to become the person you are today?
Joel Kauffman was my basketball coach and he inspired me to think outside of the box. Even though Hesston was a small town he always came with a unique perspective. He is down to earth and very good listener. If there was one person that I could go to and get an honest opinion/answer that would be Joel. I still stay in touch with him. He is an amazing person.
Where did you go and what did you do after graduating from Hesston?
I went to Goshen (Ind.) College and graduated with my degree in social work. I worked in social services for five years and I now am a missionary to the children of the greater St. Louis area. We reach children in the public schools with the Gospel of Jesus Christ. I reach the children but as a missionary I am also the project administrator.
Do you have any advice for students considering a social sciences education at Hesston?
Hesston is a place that you should go. You do not just go for a social sciences career but a rich deep and diverse experience but you have to be open to differences. I take my experience with Hesston with me everywhere. God blessed me to go to a place that was a perfect fit. I would want everyone to experience Hesston. If you are open to it you will truly have an experience of a lifetime.