Coaches
Bryan Kehr (Fifth Season)
Phone: 620-327-8193
Email: bryank@hesston.edu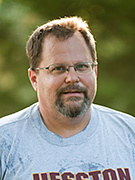 The 2014 season is the fifth for coach Bryan Kehr. In 2012, Kehr led the Larks to a new wins record (9) in just his third year at the helm of Hesston College women's soccer. In addition to his role with women's soccer, Kehr is the director of intramurals and an instructor for physical education at Hesston.
Kehr is a Goshen (Ind.) College graduate with a bachelor's degree in physical education and a minor in family life education. He has coaching licenses and certification from both the United States Soccer Federation and the National Soccer Coaches Association of America.
Kehr launched the varsity girls' soccer program at Bethany Christian School (Goshen, Ind.) in 1999 and led the team to four sectional titles and one regional title.