Photo: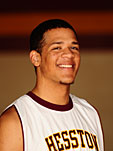 Hometown:
Cedar Park, Texas
Other:
Parents: Lynnette Bonilla, Herman Sorrells
Hometown: Austin, Texas
High School: Jack C. Hays High School
How did you decide to come to Hesston College?
The coach told me about the program. My AAU coach told me that it is a great campus with great people.
In what ways will Hesston College prepare you for your career or life after you graduate?
I believe that the teaching that I will be receiving will be top notch; and to grow as a basketball player.
How did you become interested in playing basketball? Who influenced you and what motivates you to play to this level?
I played when I was younger. Then, after stopping for four years, I had to go back to what I love. My parents, family, and friends would come watch my games and cheer for me. I love to compete and be pushed.