Photo: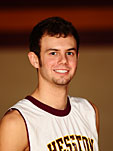 Hometown:
Millersburg, Ohio
Other:
Parents: Allen and Pam Troyer
Hometown: Millersburg, Ohio
High School: Hiland High School
How did you decide to come to Hesston College?
I thought it would be a good place for me to concentrate on basketball and my school work.
In what ways will Hesston College prepare you for your career or life after you graduate?
It will help me by preparing me to take care of things and take responsibility for my actions.
How did you become interested in playing basketball? Who influenced you and what motivates you to play at this level?
Matt Beachy, Coach Galyon and Andy Sharp played a big role in my deciding to come to Hesston. The people who motivated me and still motivate me are my high school coaches and the players who are now part of my team.