Photo: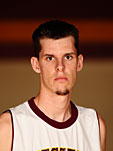 Hometown:
Maysville, Okla.
Other:
Parents: David and Anita Uhles
Hometown: Maysville, Okla.
High School: Paoli High School
How did you decide to come to Hesston College?
Just the atmosphere, Coach Galyon, the conference we play in, and the size of the college.
In what ways will Hesston College prepare you for your career or life after you graduate?
The academics at Hesston College are better than any other two-year school. And the basketball program will prepare me for the final two years.
How did you become interested in playing basketball? Who influenced you and what motivates you to play at this level?
I grew up in a gym. My dad was a coach and played collegiate so I wanted to follow him.