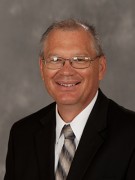 President
Email:
howard.keim@hesston.edu
Office Location:
Alliman Administration Center 303
Affiliated Departments or Programs
Educational Background
A.A., liberal arts, Hesston College, 1972
B.S., speech and dramatic arts, Central Michigan University (Mount Pleasant), 1974
M.A., interpersonal and public communication, Central Michigan University, 1976
Ph.D., communication studies, University of Kansas (Lawrence), 1996
In Addition …
Professional Experience
President, Hesston College, 2005 to present
Vice President, Academics and Student Development, Tabor College, 2000 to 2004
Director of Field Services, Communities in Schools of Kansas, 1999 to 2000
Assistant Professor of Communication, Tabor College, 1996 to 1999
Instructor of Communication, Director of Pastoral Ministries Program, Hesston College, 1987 to 1996
Pastor, Kalona (Iowa) Mennonite Church, 1979 to 1987
Youth Ministrer, Fairvew (Mich.) Mennonite Church, 1976 to 1979
Personal
I grew up on a farm in the Thumb area of Michigan, the youngest of four children. Our family attended the Pigeon River Conservative Mennonite Church, where I was baptized. Tami (Birky) from Gibson City, Ill., and I met at Bible Memory Camp, dated during our Hesston College years, and were married in 1972. Tami has been director of the Early Childhood Education Program at Hesston College since 1987. Our older daughter, Tonya, is married to Ryan Bartel. They live in Hesston. Ryan works for Excel Industries in Hesston and Tonya works part-time at Whitestone Mennonite Church as the worship planner. They have three children, Eva, River and Sage. Our younger daughter, Talashia, is married to Daniel Yoder. They have two sons, Malachi and Zephania. They live in Goshen, Ind., and are both on staff at College Mennonite Church where Daniel is youth pastor and Talashia works with young adults. Talashia also directs, choreographs and acts in various theatre venues.