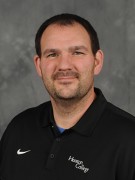 Resident Director
Email:
brent.brockmueller@hesston.edu
Office Location:
Kauffman Court
Affiliated Departments or Programs
Educational Background
A.A., Hesston College, 2001
B.S., Tabor College, 2004
In Addition …
I am excited to be back in the resident director role. Since leaving Student Life two and a half years ago I have served as an admissions counselor for Hesston College and as an activities assistant at Pine Village in Moundridge. I live in Kauffman Court with my wife, Angie, who is a registered nurse. We enjoy taking road trips to visit family and friends and enjoy watching Sherlock, NCIS, Elementary, HGTV and Top Gear (British version).