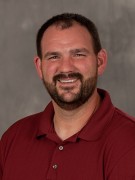 Resident Director
Email:
brent.brockmueller@hesston.edu
Office Location:
Kauffman Court
Affiliated Departments or Programs
Educational Background
A.A., Hesston College, 2001
B.S., Tabor College, 2004
In Addition …
This is my seventh year as resident director and ninth year at Hesston College. I am married to Angie (Martin) who also teaches A&P and is an assistant to the registrar. We love the opportunity to work with students at Hesston and be part of such a wonderful community. Some of our hobbies are road trips, listening to books on tape, playing Spike Ball and spending time with Angie's siblings. We also host a movie night for students every Tuesday night.