Thanks to many generous donors, the aviation campaign is complete.

It's the promise Hesston College makes to each student, and nowhere is it more true than for Aviation students. With tracks in flight and air traffic control, Hesston College prepares students for vocations of service and professionalism. The program is growing with more than 50 students, and there was significant need for plane and facility upgrades to ensure that each student continues receiving the best education possible.
Aviation campaign funds refreshed the program with:
Cessna 172 Skyhawk with Garmin G1000 Avionics
Redbird MCX G1000 GFC700 flight simulator
Flight training device upgrade
Avionics modernization, including GPS on all planes
Enhanced airport offices and learning spaces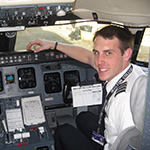 "I am very excited about this campaign. I see it as a great way to give back to a program that has blessed me with the ability to do what I love for a living as well as ensure that the Aviation Department is equipped to do the same for future generations." – Matt Yoder '06
Help future aviators by giving to this project. Your gift will allow Hesston College to continue providing top-notch training and educational experiences.
Hesston College Aviation at a glance
Certification offered in single-engine land private pilot, commercial pilot, instrument and multi-engine rating and fixed-wing private pilot through airline transport pilot.
The only FAA-certified Air Traffic Control program in Kansas.
Flight training and all applicable ground schools are offered as preparation for FAA exams and rides.
Students get in the cockpit as freshmen.
Fleet of planes plus a flight training device and Air Traffic Control lab provide experiential learning across a full spectrum of instrumentation.
More than 700 pilots trained at Hesston College.
In addition to all major airlines, alumni fly for dozens of corporate and charter companies and work in a variety of settings, including serving with mission organizations and working as air traffic controllers, flight instructors and FAA inspectors.
Homecoming 2011 featured an Aviation symposium that drew alumni from across the U.S.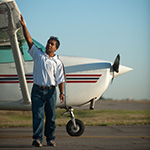 "The Hesston College Aviation Program has equipped me to discern a path for my career in the aviation industry and prepared me professionally for the challenges ahead." – Kush Lengacher '12