Music Education and Music Therapy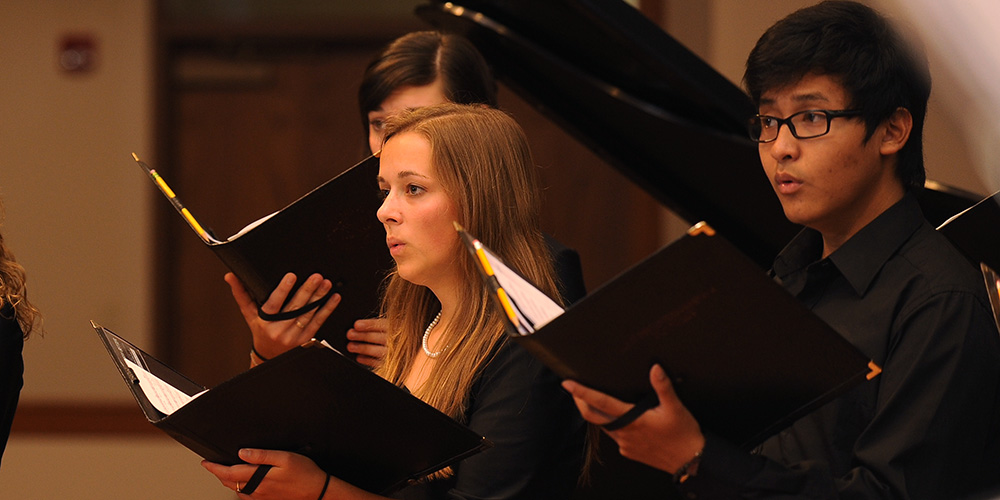 We want to see you on stage next fall. Period. Four-year colleges most often showcase juniors and seniors. All the great roles, solos and ensemble opportunities go to them. Our program is designed to accelerate the freshman and sophomore experience, bringing together talented students from across the country (and internationally, too) to build artistry, technique and professional skills in your first two years of college.
Why Hesston for Music Education or Music Therapy?
In a word: possibility. We nurture a strong culture of "yes." We love when students come to us with ideas that sound like, "I've always wanted to try..." or "Could this piece work in my recital?" At Hesston, you are only limited by your own imagination and ambition. Our faculty have a lot of experience creating unique spaces for learning. Hesston's opportunities combined with your drive to excel make for an exciting world of possibility.
Of course, a culture of possibility isn't enough by itself. We are also dedicated to caring for your transition to a bachelor's degree. We are always monitoring what we offer and what transfer institutions require. Our courses transfer seamlessly to whole range of private and public colleges and universities. Your Hesston College academic advisor will guide you through course selection and help you plan for your eventual transfer. We're in your corner!
Professors at Hesston are deeply invested in your success. Small class sizes mean your professor has time for you and is attuned to your needs. Step into a performing arts class and you'll see professors challenging students while giving them the support they need to succeed.
When you leave Hesston, you will have a better understanding of how music works and how to mount successful performances. Hesston students develop the confidence to thrive in their next steps.
Graduates from the past ten years have built successful careers in music education and music therapy, and have gone on to graduate study in music.
Here are some primary components of the first two years for a Music Education or Music Therapy major:
Private lessons in your major area (and sometimes a secondary instrument as well)
Two semesters of Music Theory
Ensemble membership for credit
Masterclass and department recital performances
Sophomore recital
Affiliated Departments
Meet the Faculty