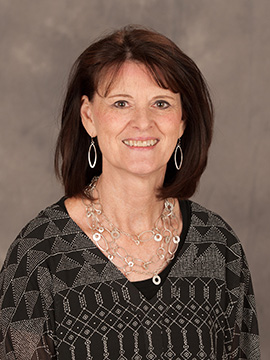 Business faculty
Email
vickiea@hesston.edu
Affiliated Departments or Programs
Education
B.S., Business Education, Southwestern Oklahoma State University (Weatherford)
M.S., Business Education, Emporia (Kan.) State University, 1996
Continuing Education: Wichita State University, Bethel College, Southwestern Oklahoma State University
Additional college-level and vocational teaching experience:
Adjunct instructor at Emporia State University
Accounting instructor at Central Kansas Area Vocational-Technical School
Adjunct Business instructor at Bethel College
Training Experience: Excel, InDesign, word processing software
Additional Work Experience: software trainer (Excel, InDesign, Word); staff accountant; office and inventory control manager
Personal Statement
Teaching at Hesston College is a privilege and joy for so many reasons! We, as faculty, have the opportunity to be of service to others, the church and the world through our work with students. Providing opportunities for students to connect with people from local, national and international businesses is an incredible experience.
Hesston College faculty value the opportunity to focus on freshman and sophomore students. Hesston College provides the flexibility and freedom to include a variety of experiences beyond the textbook learning.
Many opportunities arise for us to adjust our class schedules so students may...
Interact with successful business people who are visiting
Collaborate with other departments on unique, educational experience
Attend seminars and conventions off-campus
Work with local businesses on a variety of projects
Professional Affiliations
Courses Taught
BuAc 205 Financial Accounting I
BuAd 109 Exploring Business
BuAd 112 Personal Finance
BuAd 220 Management
BuCS 112 Introduction to Computers
BuCS 114 Introduction to Accounting Software
BuCS 115 Desktop Publishing
BuCS 117 Computer Applications
In Addition …
My journey has taken me into a variety of positions in which I was able to apply my education and previous experiences. Each position also required me to continue to develop new skills and knowledge. These experiences impact what I see as important and necessary skills students truly need for the workplace. Students must prepare for lifelong learning in order to be effective, productive and creative employees of the future.
Related Links