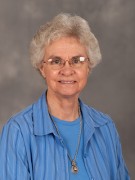 Nursing faculty
Email:
joyceh@hesston.edu
Office Location:
Charles Hall (C-27)
Affiliated Departments or Programs
Educational Background
B.S.N., Goshen (Ind.) College, 1972
M.N., Wichita (Kan.) State University, 1978
Hesston College Nursing faculty since 1973.
Personal Statement
The most rewarding part of teaching nursing is to know that I've had a part in helping individuals meet their goals of becoming nurses. I cherish my relationships with nursing students–they are some of the most wonderful persons I've ever met! It brings me joy and satisfaction to see students develop healing skills and show compassion in caring for clients.
Courses Taught
Medical/surgical nursing
Course coordinator for Nursing III and Integration Seminar
Classroom and clinical instruction for Nursing III and Nursing
IV
In Addition …
What are your favorite courses to teach
I enjoy teaching the medical surgical nursing courses. We discuss how nurses can bring healing wholistically as we care for persons who are ill.
How has your background and educational experiences shaped you as a teacher?
I enjoy asking students questions to help them think about why and how to relate to their clients.