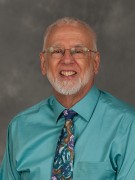 Chemistry faculty
Office Location:
Charles Hall (C4)
Affiliated Departments or Programs
Educational Background
Taylor University (Upland, Ind.), 1960-61
A.A., Hesston College, 1962
B.A. with honors, chemistry, Goshen (Ind.) College, 1964
Ph.D., organic chemistry with minors in physical chemistry and philosophy of science, Indiana University (Bloomington), 1969
Research interests: organic synthesis, pedagogy
Publications
Zinc Reduction of Gamma-Diketones in Journal of Organic Chemistry (1970)(with E. Wenkert)
An Investigation into Two-Dimensional NMR – a First Year Organic Chemistry Experiment in NMR Exercises for theUndergraduate Laboratory/Classroom; FT-NMR Workshop Papers; National Science Foundation; 1995
Synthesis and Characterization of Certain Rhenium Coordination Compounds [poster presented to the Feb 2010 national meeting of the American Chemical Society]
Personal Statement
As science is, by definition, the study of creation, it does "declare the glory of God." To teach the sciences is a sacred trust and an awesome privilege.
Professional Affiliations
Courses Taught
Chem 121 General Chemistry I – 4/5 cr hrs
Chem 122 General Chemistry II – 4/5 cr hrs
Chem 203 Organic Chemistry I – 4 cr hrs
Chem 204 Organic Chemistry II – 4 cr hrs
PhSc 201 General Astronomy – 4 cr hrs
In Addition …
Work Experience
Teaching Assistant, Indiana University, 1964 – 68
Faculty, Hesston College, 1968-
Summer Instructor, Goshen (Ind.) College, three times in the 1970s
Adjunct Instructor, Bethel College (North Newton, Kan.), 1969-78, 1981-85, (combined Hesston/Bethel two-semester Organic Chemistry course)
Adjunct Instructor, Tabor College (Hillsboro, Kan.), 1984, 1990
Lecturer, University of Swaziland, 1979-81 (under Mennonite Central Committee)
Visiting Assistant Professor, Wichita (Kan.) State University, 1988-89; 1998-99, summers 1999-2012
Fulbright Lecturer, University of Swaziland, 2007-08
Faculty Research Fellow, RESC, Wichita State University, 2009
---
What draws you to the field of chemistry?
Chemistry is the central science—that is, studies in most (all) other sciences, natural and social, and even in the humanities, are enabled, enhanced and/or augmented by an understannding of chemistry.
What about teaching energizes you?
Every class becomes a community. And every year we get the opportunity to help make those classes ever more effective learning communities.
Who are your role models or mentors?
My father, scholar and teacher before me, and my mother, who insisted on effective public presentations, were, by far, my most ardent supporters and my most important mentors.
---
Personal Interests and Information
Three adult children and eight grandchildren
Dramatic roles: (a selection of roles played in Hesston College productions)
Malvolio, Twelfth Night (William Shakespeare), 1990
Bottom, the Weaver, A Midsummer's Night Dream (William Shakespeare), 1995
Monsieur Jordain (title role), The Bourgeois Gentleman (Moliere), 1996
Scrooge, A Christmas Carol (Charles Dickens), 1999
Grandpa, You Can't Take it With You (Kaufman & Hart), 2004
Peter Quince and Egeus, A Midsummer's Night Dream (William Shakespeare), 2012
Racquetball