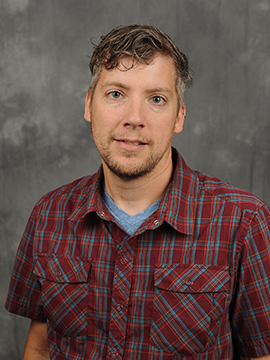 Nursing Professor
Email
duane.miller@hesston.edu
Affiliated Departments or Programs
Education
B.S.N., Eastern Mennonite University (Harrisonburg, Va.)
M.N., nursing education with a community health focus, Oregon Health and Science University
in progress: D.N.P., family nurse practitioner track, University of Kansas Medical Center School of Nursing (Kansas City)(anticipated completion - spring 2021)
Licensure and Certifications
R.N., Kansas
Certified Emergency Nurse (C.E.N.)
Courses Taught
Nurs 302 Foundations II and Maternal/Child Nursing
Nurs 306 Nursing Theories and Professional Practice
Nurs 400 Acute Care Nursing I
Nurs 410 Population-Based Nursing
Nursing clinical instruction: Nurs 302 and Nurs 400
In Addition …
What draws you to the field of nursing?
I often hear from nursing students that they want a job that is about something "more," a job that involves helping people and is not simply just about a paycheck. I held similar thoughts as an undergraduate. Nursing has been very rewarding in that way. I've had many meaningful interactions with clients that continue to renew my passion for nursing. I'm thankful that nursing is more than a job, it is a professional career that provides concrete ways in which to purposefully engage with humanity.
What about teaching energizes you?
I enjoy connecting nursing theory to nursing practice. It's exciting to see students work through clinical scenarios and have "aha" moments as they realize they are putting their knowledge to work. I've also found that many students experience accelerated learning when they find the material applicable and I like facilitating that acceleration. Teaching also enhances my own learning. Students ask great questions and I continue to learn new things every day as I pay attention to that interaction.
What are your favorite courses to teach? Why are they favorites? What do you like about them?
Community health is my favorite course to teach. Nursing students are accustomed to hospital, long-term care facility and clinic nursing environments. We often hear students equate the bedside practice of skills such as IV insertion and medication administration as "real nursing." Nursing encompasses so much more than such bedside skills. I have the joy of expanding students' understanding of nursing to include the broader community, to see nursing through a population-focused lens. A previous student of mine was able to see food insecurity over the weekends in elementary school-aged children as a nursing problem (the school already had free breakfast and free lunch programs). This student implemented a backpack lunch program for the children over weekends during the school year via the Community Health Nursing clinical. Nursing students can be innovative and visionary drivers of change when given the opportunity.
Related Links